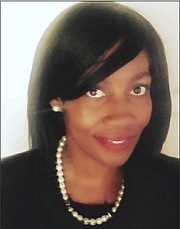 By ROCHELLE DEAN
WE HEAR about climate change in the Bahamas but greenhouse gas emissions are rarely spoken of.

A country that rests within a region that is most vulnerable to the impacts of climate change must begin to transition to low emissions development.
How does the Bahamas as a nation plan for those things that are certain to come with climate change and the shifting of the world due to the major changes in development?
The country must first recognise the irreversible effects of globalisation, industrialisation and even conservation.
We are forced now to lead by example. The Bahamian people must shift as climate change poses major challenges to development. We often hear the cliché 'each one, teach one' - it's important to garner this type of mentality relative to beginning a process that includes the reduction of global greenhouse gases.
No nation is immune to climate change and, according to the World Bank, there must be global greenhouse gas reduction by 2050 or we risk the possibility of putting prosperity out of reach for millions of people in the developing world and leaving impacts of climate change unequal and tilted against the Caribbean.
The Bahamas must examine its policies as it relates to low emissions development. We must bring it closer to home and consider our approach to pollution, resource deprivation and waste discarded products. As human beings we all have a carbon footprint that measures how much we contribute to the greenhouse gas emissions that are causing climate change.
It is the responsibility of every person to consider how they affect their nation and fundamentally their home. The Earth is the only place that we human beings can live and we must consider how we contribute to its destruction.
The Bahamas must take climate change seriously and think about ways to reduce our risk of unforeseen acts of nature that will prove disastrous. The Bahamas must also seek advice and partnerships with other developed nations that can assist in developing and implementing a low emissions strategy. We must prepare a generation to build a legacy - a sustainable nation.
The Bahamas must begin to aggressively place itself among other nations that can give guidance and support to meet its goals of sustainable development. The Bahamas must not see recycling as a means of classism. It's the beginning of preservation. It's showing respect not only for country but for the Earth at large.
COP21 (the United Nations conference on climate change) in Paris, France, in December was the beginning of aggressive talks with other nations as to how climate change will affect us all in years to come. Leaders from nations across the world stood in solidarity for the first time in 20 years as to the need to be united in the effort to achieve a binding and universal agreement on climate, with the aim of keeping global warming below 2°C. It was recognised that most nations are taking climate change very seriously and were less engaged in politics and advantageous hyper-partisanism.
The Bahamian people must do their part by showing its leaders they can and will commit to low emissions development and reducing the impact of climate change.
We begin to contribute to this cause when we recycle. Measure our carbon metric footprint regularly and make adjustments, demand high level political engagement from politicians, expect more ambitious actions by government which attracts funding for priority action and seek young informed Bahamian experts to formulate a low emissions development strategy.
This is our Bahamas and low emissions development strategies cannot be duplicated. It is where the legacy of the Bahamian people begins. Poverty alleviation starts with climate change.
Rochelle R Dean is a Bahamian scholar, research fellow and peer-reviewer and a theory writer of economics presently completing a Bachelors of Science dual degree in economics and public administration with Liberty University, Lynchburg, Virginia.