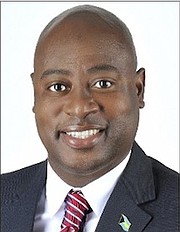 THE Free National Movement yesterday announced construction engineer Leonard Sands as its candidate for the Bain and Grants Town constituency.
Mr Sands will be formally introduced at a constituency association meeting tonight at Stephen Dillet Primary School.
Mr Sands has an associate's degree in architecture from The College of The Bahamas and a bachelor's degree in construction engineering technology from Florida Agricultural and Mechanical University.
As managing director of Sandbank Construction, Mr Sands also serves as vice-president of public relations on the board of the Bahamian Contractors Association.
He also serves as an adjunct professor in the School of Mathematics, Physics and Technology at The College of The Bahamas.
The party announced Mr Sands as a member last September.
According to the FNM's release, Mr Sands is considered a son of the Bain and Grants Town community, actively involved with its residents and often partnering with the community in carrying out programmes and events.
He and his wife, Christina Kenny-Sands, are members of the congregation at Bahamas Harvest Church.
Mr Sands follows former candidate John Bostwick II as the party's standard-bearer in the constituency, which is considered a PLP stronghold.
Mr Bostwick lost to Dr Bernard Nottage by 1,102 votes in the 2012 general election.