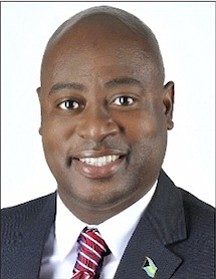 Leonard Sands
Stories this photo appears in:

AN ex-Bahamian Contractors Association (BCA) president yesterday hailed the Prime Minister's home ownership tax breaks package for potentially boosting 80 percent of new construction starts, and said: "Better late than never."

BAHAMAS Contractors Association (BCA) President Leonard Sands says a local company's proposed modular homes initiative is a potential game-changer for the country. He believes the business is a possible solution to the high cost of houses. His statem

MORE than a month after he announced that he was suspending his election campaign in the Bain and Grants Town constituency, Free National Movement member Leonard Sands announced that he has officially ended his candidacy.

FORMER Cabinet minister Tennyson Wells yesterday said that former Free National Movement (FNM) candidate Leonard Sands should not have accepted his nomination in the Bain and Grant's Town constituency if he was unhappy with party infighting as he called for more stringent vetting.

LEONARD Sands, the Free National Movement's (FNM) candidate for Bain and Grants Town, said yesterday the continued "infighting" within the party as well as "personal considerations" have forced him to suspend his campaign.
THE Free National Movement yesterday announced construction engineer Leonard Sands as its candidate for the Bain and Grants Town constituency.