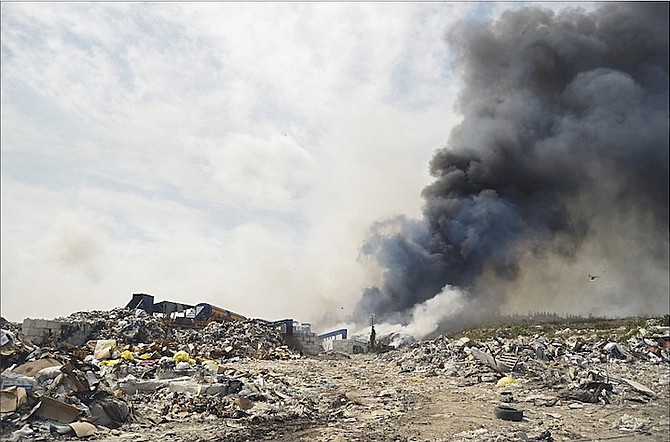 By NICO SCAVELLA
Tribune Staff Reporter
nscavella@tribunemedia.net
THERE is room for "further progress to be achieved" regarding the government's honouring of previous "public policy recommendations" for solid waste management in the country, Inter-American Development Bank Bahamas representative Maria Florencia Attademo-Hirt said yesterday.
Mrs Attademo-Hirt also said there is "room for improvement" in the management of solid waste in general in the Bahamas. However, she said, there is a possibility for "impactful development outcomes" in this sector. Mrs Attademo-Hirt was asked about the government's borrowing of $23.5 million from the IDB in 1999 to implement a solid waste disposal project in New Providence and 10 Family Islands. At the time, then-Finance Minister William Allen said the total cost of the project was $33.5m; the $10m difference was to be government counterpart funding.
In particular, the project promised to provide a hazardous waste disposal site adjacent to the Harold Road landfill, institutional support for the agency executing the disposal and an environmental health education and awareness programme. The project also promised to provide for disposal facilities in Abaco, Andros, Bimini, Cat Island, Eleuthera, Great Exuma, Grand Bahama, Inagua, Long Island and San Salvador, according to The Tribune's archives.
According to Mrs Attademo-Hirt, certain "public policy recommendations" were issued as a result of that project, which included "financial sustainability of a landfill, environmental sustainability, and raising awareness of education among Bahamians of the importance of proper solid waste management."
Of the country's progress towards honouring those recommendations, Mrs Attademo-Hirt said yesterday: "...I think those are still valued today and could continue being implemented. Progress has been achieved in certain areas, but there is room for further progress to be achieved."
She spoke during an IDB roundtable discussion with the media at the Baha Mar convention centre.
Mrs Attademo-Hirt expressed optimism in the country's climb towards effective and efficient solid waste management.
"We all hear and we all see the good and the not so good of this island," she said. "Again, is there room for improvement in the management of solid waste in general in the Commonwealth of the Bahamas? I believe there is. And I believe that if you ask the Bahamians, those who live in Nassau and those who live in the Family Islands, they would tend to agree with this thought of mine.
"There is room for improvement, there is room for awareness, there is room for further education in terms of what solid waste management means, what it means if you don't do it properly, especially an island nation like the Bahamas."
She added: "The landfill, it's a legacy issue, that site has been used by Bahamians and New Providence residents for a long period of time to dispose of their garbage. I understand that this goes back decades, a number of decades.
"I also understand that the way the garbage has been disposed of was perhaps not the most efficient one, in terms of the type of garbage that is disposed of, how it is being kept there, for example mixing perhaps garbage from households with industrial waste and perhaps with some other waste, including related to healthcare services."
Mrs Attademo-Hirt's statements come after recurrent fires at the New Providence landfill, all of which have continued to make headlines.
The latest fire occurred around 11pm on Easter Sunday, at a tipping point at the southern end of the Harold Road property.

Renew Bahamas, through its 2014 agreement with the government, has the job of securing the 300-acre compound in southwest New Providence, as well as managing the landfill and helping to address the recurring fires.
However, the landfill has been plagued by frequent fires despite efforts by Renew to limit them.