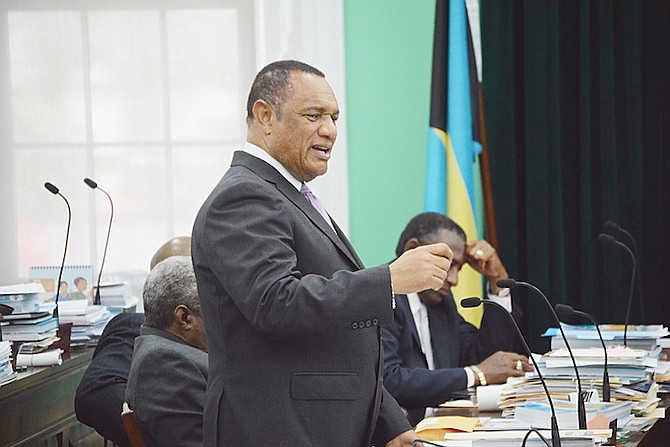 By AVA TURNQUEST
Tribune Chief Reporter
aturnquest@tribunemedia.net
PRIME Minister Perry Christie yesterday declared that the time had come for men and women in the country to enjoy the same rights in the Constitution as he announced that the gender equality referendum will be held on June 7.
Mr Christie stressed that the referendum did not propose radical change, pushing back against what he called "false rumours or incorrect information."
He emphasised that the controversial fourth constitutional amendment would not lead to same-sex marriage. The proposed change seeks to update Article 26 of the Constitution to outlaw discrimination based on sex. He also pointed out that because the upcoming vote is a constitutional referendum, the people's choice was final.
"There have been some questions about the intent and the possible effects of this change," he said, referring to the fourth amendment.
"The purpose of this amendment is only to ensure that Bahamian men and women are equal under the law. I am going to emphasise that in the Bahamas, by law – under the Matrimonial Causes Act - marriage must be between a man and a woman, and this amendment will not change that."
Mr Christie added: "In fact, the lawyers who drafted the language of the amendment went out of their way to protect traditional marriage, by defining 'sex' as meaning 'male or female'. The language is clear, and the intent of Parliament – which any future court is likewise obliged to consider – is also crystal clear."
Mr Christie pointed out that there were no previous cases in similar Commonwealth countries wherein such a change led to a judicially-created right to same-sex marriage.
"I repeat: this referendum will not cause same-sex marriage to become legal in The Bahamas," he said.
"Marriage in The Bahamas will be legal only if it is between a man and a woman, and male and female are determined at birth."
Mr Christie added: "I am so emphatic because it is so important for Bahamians to vote on what is really at stake – equal rights for our sons and daughters – and not let false rumours or incorrect information hold sway."
He spoke at the launch of the YES Bahamas campaign, which seeks to educate persons and raise awareness about the upcoming referendum.
The campaign is co-chaired by Senate President Sharon Wilson and former Senate President Lynn Holowesko. Former Senators Cheryl Bazzard and Heather Hunt will act as co-executive directors.
Minister of National Security Dr Bernard Nottage yesterday said the government did not have a specified budget for the constitutional referendum. Dr Nottage said the parliamentary commissioner would announce the deadline for voter registration today, adding that persons who registered for the 2012 general election would still be eligible. He noted that there would be significant costs for indelible ink and readying overseas polling stations.
The House of Assembly and Senate passed all four bills last month.
Bill one as written would give Bahamian women who are married to foreign men the right to pass on their Bahamian citizenship to any child of that union no matter where that child is born.
The Constitution currently says that only Bahamian male citizens by birth have that right.
Bill two as written would allow a Bahamian woman married to a foreign man the right to secure for her husband the same access to Bahamian citizenship as a Bahamian male has in relation to his foreign wife.
Bill three would grant any unmarried Bahamian man the right to pass on his Bahamian citizenship to any child he fathers with a foreign woman with proof of paternity.
Yesterday, Mr Christie underscored that the referendum was a simple exercise to modernise the country's Constitution to reflect the shared values of its citizens.
"This referendum does not seek to change Bahamian society or our traditional values – instead it seeks to change the Constitution so that it more clearly reflects those values, and our shared belief in fairness," he said.
He said he was certain that Bahamians from all walks of life would vote yes to all bills.
Mr Christie added: "Because there are moments to unite as a nation, moments when we come together to do the right thing, and this is one of those moments."