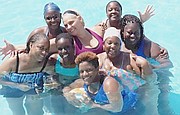 By ALESHA CADET
Tribune Features Reporter
acadet@tribunemedia.net
THE summer months are fast approaching and members of the Club One Fitness Centre are excited to have already kick-started their popular water exercise programme that will run throughout the season on Monday and Saturday mornings.
The Splash Aqua Aerobics will incorporate strength training, dance fitness, stretching and various activities such as pool volleyball.
"We started aqua aerobics three years ago as a part of our summer weight loss programme – The Sexy Summer Slimdown," said Dianne Gibson, a certified aqua fitness instructor, Pilates instructor, Zumba fitness and prenatal trainer at Club One.
"We combine all elements of these exercise types to create fun, safe and exciting programmes.
Ms Gibson said she believes the pool provides a soft environment for workouts and it is easy on the joints, as the water supports the body in every position. Water, she added, also helps alleviate feelings of fatigue because it supports a person's body weight.
Water exercise techniques, she explained, are perfect for those recovering from an injury, suffering from arthritis or knee and back pain, pregnant women, and the elderly.
"Water aerobics are a gentler way to move in the water and is softer on the joints. Increased flexibility can result due to the wider range of motion the body can achieve due to the absence of gravity acting on the joints. More advanced exercisers can also benefit by increasing resistance with water weights and webbed gloves or by using water exercise as an active rest day," she said,
According to Club One Fitness, like any regular exercise, pool workouts are also great stress relievers. The exercise stimulates the brain to release chemicals that make the body feel good. When performing pool exercises in warmer water temperatures, the movement of water against and over the body results in both a massage and relaxation. This calming effect can decrease or eliminate the pain resulting from a normal workout.
Aqua aerobics also provide a more discrete exercise environment, with most moves performed underwater so only the participant would be aware if they missed a step. Additionally, Club One said, a person does not need to know how to swim to participate in the aqua fitness programme.
The programme is generally performed in water that is up to a person's waist or maybe up to their chest, depending on the specific exercise. Jogging in the water, for example, is done in deeper water so that a person's body stays completely submerged. A flotation device can be worn for comfort and safety.
"A fitness programme should be well-rounded and contain cardio, strength training and flexibility components. If it is enjoyable you will be more likely to stick with it. Splash Aqua Aerobic has become increasingly popular each summer. We have needed to start earlier in the year to accommodate the demand," said Ms Gibson.