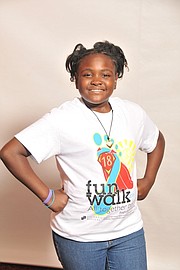 This year's fun walk/run hosted by Atlantic Medical is celebrating "Superheroes for a Day", honouring those living with diabetes and actively fighting cancer.
An invitation is being extended to the general public to support the cause and participate in the event which kicks off at 6am this Saturday at Montagu Park.
With childhood diabetes becoming as prevalent as diabetes in adults in the Bahamas, Atlantic Medical said they are also seeking to create greater awareness of the issue by spotlighting those diagnosed with childhood diabetes. Eleven-year-old Rhonda Rahming is one of those affected.
Rhonda is one of the "superheroes" who will participate in the walk on Saturday. She was diagnosed with type 1 diabetes at the age of eight and described the experience as a "frightening" one that she will never forget. Loss of appetite, weight loss and constant weakness were some of the symptoms she experienced.
"I lost so much weight. One day I could've actually seen the bone structure in my hand. So I went to the doctor the next day and they sent me to the hospital where they admitted me for two and a half weeks. They told me that if I hadn't come in to get my sugar checked I would have been in a diabetic coma," Rhonda said.
A seventh grade student at S C McPherson Junior High School, Rhonda has maturely taken on the responsibilities of caring for herself and managing her illness. She is required to take insulin four times a day and routinely check her glucose levels four to five times a day.
"It was scary because I didn't know what to do at first, because most children don't know about diabetes. So they find it hard to prick their finger to test glucose and take their insulin. I was originally afraid of needles, but now that I give myself insulin on a daily basis I have overcome that fear. I understand that it's an important part of my health," Rhonda said.
Now a young, vibrant and energetic tween, Rhonda said she refuses to let diabetes hold her back. She sees herself as an advocate for children with diabetes and believes in increasing awareness. She has taken the initiative to educate her schoolmates about her illness.
"My friends already know about my diabetes because I told them and they sometimes want to give me a hand. When I was first diagnosed in primary school, children would be afraid, but now in junior high school there are other children like me with diabetes," she said.
Rhonda said a balanced diet and exercise are other essential parts in maintaining her health. Unlike many of the children at her school, Rhonda must carefully organise her meal plan and take her food with her to school every day.
"I get a packed lunch with a sandwich, carrot sticks and two waters. Carrot sticks are my favourite," she said. "Two days out of the week and every weekend I exercise. I go out running and I have physical education every Wednesday. I have to check my sugar before I exercise though, in case I need to carry a Capri Sun with me so that my sugar doesn't drop too low."
Her advice to other young Bahamians with diabetes is, "You're not alone. Many kids in the Bahamas have diabetes and some of them at first, they don't know how to cope with it very well. But they have the help of their parents and they get the education at the hospital."
Registration for the fun run/walk is at Atlantic Medical Insurance and costs $25, which includes a shirt along with a gift. The warm-up session begins at 6am, with the walk and run starting at 6.30am sharp.
Atlantic Medical donates all proceeds from the event to the Cancer Society of the Bahamas and the Diabetic Association of the Bahamas.