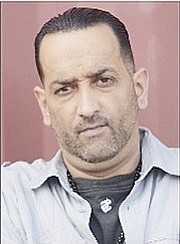 By Inigo 'Naughty' Zenicazelaya
AS the NFL Draft draws even closer, a question that was put to me keeps popping up in my mind.
Who will be this year's NFL Draft 'bust'?
I must admit there seems to be one or two every draft class, and for years the most popular name heading any type of 'NFL Draft Bust' list was QB.
Ryan Leaf -
San Diego Chargers
Ryan Leaf and Peyton Manning was an arduous decision for 'Draft experts' around the league.
Eventually, Manning went first to the Colts, while Leaf was drafted by the Chargers.
Leaf could never handle the rigours of the NFL, often battling with the team and the media. However, I'm here to set the record straight.
Yes, Ryan Leaf was a huge 'bust' but there are others who were far worse. Those individuals should meet annually and pay homage to Leaf for bearing the brunt of the verbal onslaughts, deflecting all criticism from some who deserved it more.
Also after seeing how Leaf has turned his life around and is now mentoring young athletes to prepare them and help them avoid pitfalls in their future, he will no longer be on my 'Draft Bust' list.
In fact, here's my latest edition with 10 individuals that belong on the list way ahead of Ryan Leaf, as they were bigger failures in more ways than Ryan Leaf.

• Here's the first five of
my Top 10 NFL Draft
Busts of All Time
10
Andre Ware -
Detroit Lions
The former University of Houston star lit up the collegiate ranks before being drafted seventh by the Lions in 1990. Andre Ware started just six games for Detroit. He finished his career with more interceptions than touchdown passes.
9
Blair Thomas -
New York Jets
Blair Thomas, a star at Penn State, did not equate to NFL success. Thomas was selected second overall in 1990 by the Jets and scored just nine touchdowns in his four-year career that was over as soon as it started.
8
Steve Emtman -
Indianapolis Colts
Hard to put him on this list, but Steve Emtman's career was sadly cut short due to career-ending injuries. He was the first pick of the 1992 NFL Draft by the Colts, but sadly never reached his potential on the field, as injuries never allowed him on it, one right after another.
7
Rick Mirer -
Seattle Seahawks
Rick Mirer was the star quarterback at Notre Dame drafted second in the 1993 Draft by the Seahawks. Mirer struggled in the Pacific Northwest, playing just four seasons in Seattle, eventually bouncing around as a backup (third string to be exact), before he was completely out of the league.
6
Courtney Brown -
Cleveland Browns
The Browns were at the top spot again in 2000. Cleveland drafted Courtney Brown, DL Florida #1.
Brown tallied 19 sacks in his career, in fact he sacked more 'all you can eat buffets' than quarterbacks.
I'm going to kick back and let you enjoy the rotten aroma from these legendary NFL Draft busts appetisers.
Until next week when I serve you the 'main course' numbers 5 through 1.
Feel free to email me your favourite 'NFL Draft Busts' to naughty@tribunemedia.net
As for me, I'm off to set up the rest of the 'wake' for Kobe Bryant - his last game is tomorrow and my heart is full and my eyes watery. Where's the Jack Daniels?