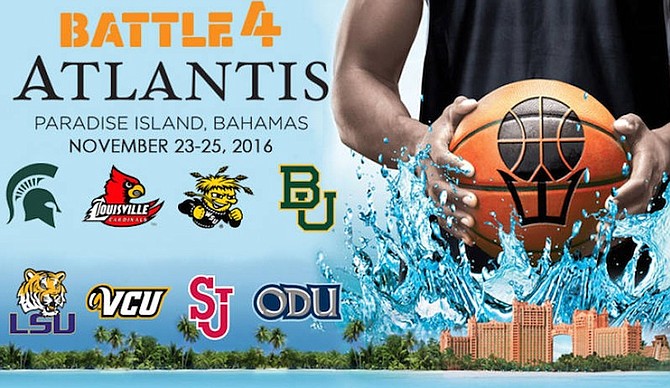 On Friday, November 27, 2015, Syracuse University fought their way to a 74-67 win versus Texas A&M University to secure their title as Champions of the Battle 4 Atlantis. Little did the team know it was a sign of big things to come; a mere four months later, Syracuse secured a spot in the 2016 NCAA Tournament's Final Four, alongside three other Battle 4 Atlantis alumni.
Not only did the 2016 NCAA Tournament's Elite Eight boast five teams (62.5 per cent) that had participated in past Battle 4 Atlantis tournaments, but all Final Four teams were Battle-tested alumni.
The Final Four included: Syracuse University (2015), University of Oklahoma (2014), Villanova University (2013), and the University of North Carolina (2013). Both Syracuse and Villanova hold titles as Battle 4 Atlantis Champions for their respective years.
The 2013 Battle 4 Atlantis Champions would go on to win the 2016 NCAA Championship on April 4.
Villanova defeated UNC 77-74, a win defined by the Wildcats' last-second shot.
The 2016 Battle 4 Atlantis celebrates the sixth year of elite collegiate tournament play, once again bringing in eight highly-regarded teams, including two returning teams from previous years.
The telling tournament field consists of: Michigan State University, University of Louisville, Wichita State University, Baylor University, Louisiana State University, Virginia Commonwealth University, St. John's University, and Old Dominion University.
The annual Battle 4 Atlantis once again falls during the Thanksgiving holiday, scheduled to take place November 23-25, 2016.
The 12-game, three-day tournament is regarded as one of the most challenging early-season tournaments, following five years of high-level teams and success.
The 2016 Battle 4 Atlantis' 12 games air live on both ESPN (a three-year partner) and AXS TV (a five-year partner) networks.
All games take place in the Imperial Arena, a half-million dollar temporary arena located on-property at the Atlantis resort on Paradise Island.
The Imperial Arena, equipped with state-of-the-art regulation facilities, is just one of the iconic resort's extraordinary features, in addition to other amenities such as the world's largest open-air marine habitat, a 141-acre award-winning water park, the most exciting casino in The Bahamas, and a variety of guest accommodations and activities for everyone.