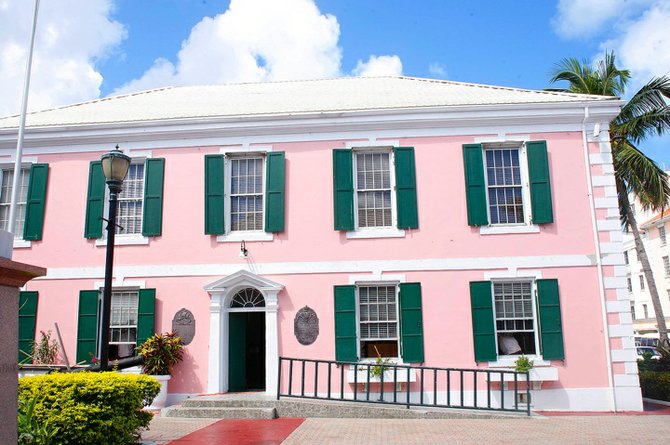 By RASHAD ROLLE
Tribune Staff Reporter
rrolle@tribunemedia.net
BISHOP Walter Hanchell has come out against the upcoming constitutional referendum, charging that it would lead to same-sex marriage and an "influx" of foreign men using Bahamian women as a "ticket" to get work.
Bishop Hanchell, president of the group Citizens for Justice (CFJ), said most political leaders and some religious leaders in the country are either intentionally deceiving people or being disingenuous about the true intent of the referendum.
Bishop Hanchell, of Great Commission Ministries, said his group is concerned about the second bill, claiming that it "seeks to grant automatic citizenship to foreign men married to Bahamian women".
In fact, the bill would not grant automatic citizenship to such people, but give the foreign spouse of a Bahamian woman the same right to apply for citizenship that Bahamian men afford their foreign wives. They would still have to prove that their marriage is legitimate.
"Over the years, we have heard of numerous complaints of foreign men marrying Bahamian women in order to have status in the country," he said in a press statement.
"These men usually abuse their wives and children and eventually leave them to go to America or they find another love.
"If bill two is successful, we will see an influx of foreign men coming to The Bahamas for work and using Bahamian women as their ticket. This would make it even more difficult for Bahamian men to find jobs in a market where unemployment is extremely high and poverty, crime and other social ills are at epidemic levels.
"We must protect our women from economic refugees seeking legal status," he said.
Bishop Hanchell said even the opposition Free National Movement "appears to have deserted their role in opposing the bills and warning the Bahamian people of all the negative aspects of the bills, perhaps to appease female voters or special interest groups".
Bishop Hanchell said the launch of the "YES Bahamas" campaign and the announcement that the referendum will be held on June 7 is a concern, as is Prime Minister Perry Christie's appointment of Senate President Sharon Wilson and former Senate President Lynn Holowesko as co-chairs of the campaign.
"CFJ is of the opinion that persons with opposing views on any of the bills presented to the Bahamian people should be given the same resources and opportunities by the government to present their case," he said.
Without citing authoritative references, Bishop Hanchell said the changes the first three proposed Constitutional Amendment Bills will bring can happen without a referendum.
"Legislation in the Parliament can correct any gender equality concerns," he said.
As for the fourth bill, which seeks to prohibit discrimination against anyone based on their sex, Bishop Hanchell said: "While we respect the views of every Bahamian on this very important issue, we too are entitled to our viewpoint and will share them with the Bahamian people during the educational phase of the referendum."
"Bill four seeks to do more than erase discrimination but is an attempt by the government to give special privileges and rights to the LGBT community."
Officials have repeatedly rejected this contention. Last year the Office of the Attorney General obtained advice from prominent UK constitutional lawyer Michael Beloff, QC, who dismissed concerns that the bill could lead to same-sex marriage. He concluded that no precedent in Westminster style constitutions would allow this to happen.
In further explaining why bill four is unnecessary, Bishop Hanchell cited women serving as governor general, acting prime minister, government ministers and other high positions as proof that women can rise to high positions in The Bahamas and not be discriminated against.
"Women have taken advantage of more educational opportunities than men," he said. "They are aggressive and work harder than their male counterparts. Bahamian women drive the finest cars, live in the most lavish homes and live as well or better than most men."
Bishop Hanchell said the government should be neutral in the matter. However, it's not unusual for governments to take sides during constitutional referendums.
The role of neutrality is being played by the Constitutional Commission, headed by Sean McWeeney.