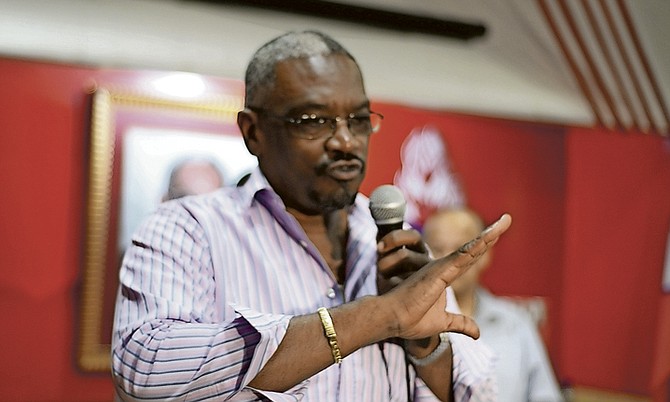 By AVA TURNQUEST
Tribune Chief Reporter
aturnquest@tribunemedia.net
FNM Leader Dr Hubert Minnis yesterday declared that corruption was endemic in Bahamian society in response to a newly released report by the US State Department that said the government had been ineffective at policing officials.
Dr Minnis pledged that, if elected, the FNM would bring new anti-corruption laws and establish an independent agency with no ties to the Office of the Attorney General.
He said the report evidenced the Progressive Liberal Party government's record of putting its own interests first.
"We need proper anti-corruption legislation," he said, "with an independent agency properly funded with proper staff, with the legislative authority to do their job. The agency would report to an independent director of prosecution who will have no oversight by the attorney general, and possibly political interference.
"We need a new direction, and what we're seeing today we won't see anymore. Corruption is endemic in our society and it must change."
In its 2015 Country Report on Human Rights Practices in this country, the US said the government's ineffectiveness at implementing corruption laws had allowed officials to engage in illegal practices with impunity.
The report added that the government procurement process was "opaque" given that there was no requirement for open public tenders or allowance for award decisions to be reviewed.
Procurement also came under scrutiny in US State Department's 2015 Investment Climate Report on The Bahamas - released last June.
In that report, the US criticised The Bahamas for "lack of transparency" in government contract bidding processes, with American companies complaining about "undue political interference".
Yesterday, Dr Minnis said that business opportunities and economic resources were being "guided away" from the country as a result of the Christie-led administration.
"The PLP obviously have a tremendous record of putting themselves and cronies before the people," he said.
"This warning is what happens because the PLP serves itself to the highest bidder. We need a new direction that doesn't sell out to anyone."
He added: "When the FNM comes into office we will ensure that we have proper anti-corruption legislation with an anti-corruption unit or agency that would have the legislative authority to investigate the prime minister, ministers or have authority to refer investigation to an independent director of public prosecutions who would be able to prosecute and follow the law.
"There will be no oversight by the attorney general which could result in political interference. If such a law or agency was in place working effectively," he added, "then we would not have these problems."