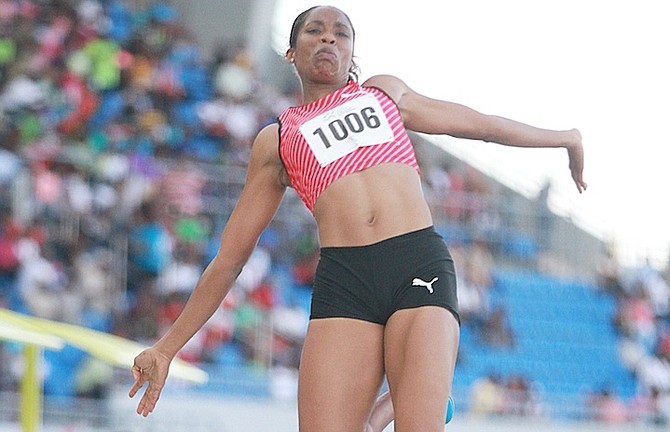 Photo Gallery
CHRIS BROWN INVITATIONAL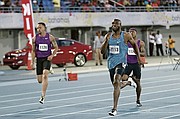 Highlights from the National Stadium. Photos: Tim Clarke/Tribune staff
By BRENT STUBBS
Senior Sports Reporter
bstubbs@tribunemedia.net
THERE were at least six world- leading marks posted - albeit two were wind-aide - at the second Chris Brown Bahamas Invitational which returned with a bang at the Thomas A Robinson Track and Field Stadium on Saturday.
There were also some mixed results from a number of Bahamians participating.
Bianca 'BB' Stuart, the Bahamian national record holder, won the women's long jump with a wind-aided 6.69m (21-11 1/2) over her nearest rival Chantel Malone from the British Virgin Islands, who did 6.43m (21-1 1/4) for second. American Chelsea Hayes got third with 6.38m (20-11 1/4).
"I wanted to jump a little further, but the one last week and this one were both wind-aided, but the closest legal jump was 6.66m (21-10 1/4), so I'm in a good position right now," said Stuart, who is under the watchful eyes of coach Henry Rolle at Auburn. "I've been training hard and competing hard. But it's always good to come home and competing in front of the crowd. It's always an advantage.
"But it was really nice for Chris to put this meet on. He did a really good job getting the Bahamian fans out because sometimes they don't like to support track. I'm really happy for Chris and I'm glad that I got invited to see where I'm at going into the season."
The last time he was here was last year when he competed on the United States of America's team at the second IAAF World Relays. Christian Taylor was back and he didn't disappoint the fans in the stands when he soared 17.11m (56-1 3/4) to clinch the victory in the men's triple jump.
His idol, Bahamian Leevan 'Superman' Sands, got third with 16.63m (54-6 3/4) behind Troy Doris of Guyana, who did 17.10m (56-1 1/4) for second.
"Today I had a lot of fun doing what I love to do," Taylor said. "I spoke to Chris Brown in Beijing and I told him that if he was going to do something that I would support him. So I was glad to come here and jump. The crowd was hyped and the Bahamas is just beautiful. I already told him that if he's having the meet again next year, I'm coming back."
Taylor said it was his honour to compete against a special guy in Sands.
"He's been an idol to me. I always looked up to him and I have a lot of respect for him, his passion, his swag and his deameanour. He really brings the show and that is something I want to do myself," Taylor said. "It's unfortunate that he's having some issues with his legs, but the important thing is that he's focusing on Rio.
"He's a fighter and sometimes you have to go through the battles to win the war. No one expected him to be here competing because of what he went through, But he's battled back and I have a lot of respect for him because of what he does on the runway. I have a lot of respect for him."
During the latter stage of competition, Sands said he started to cramp up and so he was just trying to muscle through it.
"I couldn't do anything about it. It was just one of those days." he said. "I was just talking about how that's the only part of jumping that I don't like and that is cramping up. But I feel great. I feel good, I felt strong. I had some good competition from Christian and the young guy. I just have to go back to get ready for Drake Relays and possibly Doha."
It wasn't what he expected, but Jeffery Gibson found himself having to battle through some stiff competition in the men's 400m hurdles. The Grand Bahamian fell short, having to settle for third in 49.16. American Johnny Dutch took the tape in 48.36 and Puerto Rico's Javier Culson was third in 49.16.
"I felt pretty easy going in, but I think I was just too exciting thinking about what it is competing at home again," Gibson said. "I'm okay with the results. I know my coach and I will be working on some things to get me running faster, but it was a great field and I comment the athletes who came down to support Chris.
"This is my first step for me to build back up going bigger and better. I just have to be more aggressive coming out of the blocks. My technique was okay. I just need to analyze a little more. I have to go to Drake and the pot is $20,000 grand so that's something for me to go after."
American Justin Gatlin returned for second appearance in the invitational, winning the men's 100m in a wind-aided 9.90. In the race was Bahamians Adrian Griffith, who got third in 10.03, followed by Shavez Hart in 10.15.
"It was good. I had a good performance. I felt good. There was a little bit of wind and rain, but we wanted to go out there and stay focused and poised," Gatlin said. "After the World Relays last year and this year I'm here for thew Chris Brown Invitational. I told him if he's doing it next year, I want to come in a little earlier and go to some of the schools and do a clinic or something."
Griffith, who trains out of Clermont, Florida, said he was a little of his projection.
"It was a good meet. I like the crowd. I came here and performed and I'm injury free," he said. "My training has been going very good. I came out here and executed. Now I have to go back home and to the drawing board and get ready in some more meets to run against these guys before I get to Rio."
Back, after a two year hiatus, was sprinter Steven Newbold, who took the men's B 200m ibn 21.34 over Mitchel Davis of the Dominican Republic, who did 21.48. Quarter-miler Ramon Miller was third in 21.63.
"It felt pretty to me. I'm focusibng on the 400m this year, so I just want to thank the Lord for giving me a chance to be out here again," Newbold said. "I felt pretty good coming of the curve. I have to work on coming home, but I have to work on it. I feel very good and I love running in fronrt of the home crowd.
"My training is going awesome. I want to run 44 this year, so that's a big goal for me. I want to compete at the Olympics."
The women's century was won by Michelle Lee-Ahye of Trinidad & Tobago in 11.14. She beat out Murielle Ahoure from the Ivory Coast, who did 11.16. Jamaican Veronica Campbell-Brown had to settle for third in 11.17. Her compatriot Aileen Bailey slipped and fell, running out of lane one about 70m into the race. She was taken to the hospital for further medical assistance, but was discharged that night.
In the 200m, Tori Bowie clinched the title in 22.26 to lead an American sweep as Natasha Hastings got second in 22.57 and Joanna Atkins came in third in 22.68. Bahamian Lanece Clarke was fifth in 23.50.
"It felt pretty good to be in front of the home crowd and also to compete against such talented athletes," said Clarke, who train at home with George Cleare. "Today, my coach and I just decided to work on my speed, so it felt pretty good. I just want to thank Chris for allowing me to compete in this spectacular event."
Another Bahamian Crystal Bodie participated in the women's 100m hurdles, placing sixth in 13.87. The race was also swept by the Americans with Morgan Snow taking the gold in 12.86, Tiffani McReynolds with the silver in 12.96 and Chelsea Carrier-Eades with the bronze in 13.13.
"This was my first race for the season, so I was just happy that I got to compete," Bodie said. "I was coming of an injury, so I just wanted to get through it. My only objective was to finish and I did, so now I have to start all over again on Monday."