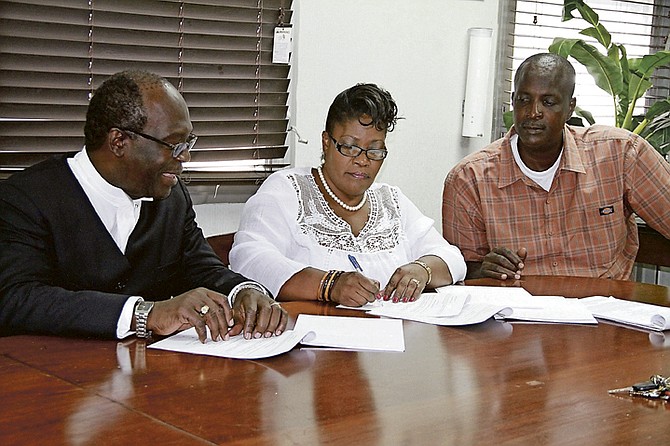 By NICO SCAVELLA
Tribune Staff Reporter
nscavella@tribunemedia.net
THE president of the union representing more than 100 Morton Salt line-staff yesterday said employees are "satisfied" with the particulars of a newly signed five-year industrial agreement with the Inagua based company.
Jennifer Brown, head of the Bahamas Industrial, Manufacturers & Allied Workers Union (BIMAWU), said the union's members and executive staff are all "pleased" that Morton Salt and the union had "finally reached" the conclusion of negotiations over the industrial agreement, which union members were at a standstill over since 2013.

Morton Salt officials also heralded yesterday's signing, pledging a willingness to work with the BIMAWU going forward.
The BIMAWU, an affiliate of the Trade Union Congress (TUC), had previously been embroiled in a dispute with Morton Salt over the definition of overtime and unilateral variation of the workweek.
The BIMAWU had argued that based on the Employment Act, working on a day off and/or public holiday entitles an employee to double time. Morton Salt though, had taken the position that it will only pay time-and-a-half.
There were also issues over a proposed base salary increase for workers, further straining negotiations.
However, as recently as February, some union members pleaded with Ms Brown to alleviate their financial hardships and sign off on the industrial agreement. They told Ms Brown that after being placed on a reduced workweek, which occurred after Hurricane Joaquin, they could not afford to carry out the "waiting game any longer."
At a signing ceremony at the Department of Labour yesterday, however, Ms Brown, surrounded by officials from the Department of Labour and Morton Salt, called the conclusion of negotiations between Morton Salt and the union an "historic event."
"Considering the position that the country is in right now, as a union executive officer you always want to try and get the most that you can get, and sometimes trying to get the most is a long process," she said. "We have to be back and forth. But the people say they're satisfied, so, we represent the people, we are the voice for the people, and that's what they want, so we're satisfied."
Ms Brown added: "We hope from today forward that the union and management can have a better working relationship, that the contract will be abided by both parties, and that we will no longer have to come to the Department of Labour."
According to Director of Labour Robert Farquharson, the agreement signed yesterday spans five years, retroactive to March 1, 2013 and expires on February 28, 2018. Wage increases and a "good" life insurance are also components of the industrial agreement.
"Morton Bahamas Limited is certainly very pleased that we have arrived at this point where we are about to sign this agreement," Charles Farquharson, Morton Salt general manager. "As was said earlier this is an historic moment and we are very happy to be here and we are looking forward to working with the union."
"We're really looking forward to working together. I have an open door policy, the company has an open door policy, so just come by and any matters we'll need to resolve or discuss, feel free, Ms Brown to come by."

Meanwhile, TUC President and BIMAWU attorney Obie Ferguson used yesterday's signing to call for "other companies" to "follow the example of [Morton Salt]" and strive for the successful negotiation of and completion of industrial agreements with the respective unions.
"Even though it is tough, even though it is rough, somehow parties were able to make an arrangement," he said. "These companies, we know it's difficult, but let us try and work hard towards getting an agreement completed. That's important. And I'm certain that the registrar and the director of labour will do what he has to do to make sure that both sides come to the table and sit down and resolve our differences."
Mr Ferguson added: "We did it at Morton Salt - it's been practically six years, but at the end of the day we have a document that is completed and will be executed and for all parties involved I want to congratulate them on making this day become a reality."
Morton Salt is Inagua's largest employer. It is a subsidiary of K+S, a German company.