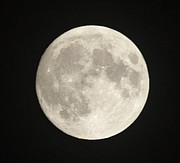 • A CAMERA lens used by the commander of the 1971 Apollo 15 moon mission on the lunar surface and in orbit is up for auction.
Boston-based RR Auction says the 12-inch long Zeiss Tele-Tessar 500mm f/8 lens could go for more than $500,000 during the sale that started last week.
The lens was designed specifically for the Hasselblad Electric Data Camera used by astronaut David Scott to take nearly 300 photos.
The silver lens is engraved near the mount with NASA part numbers. Special tabs were fitted to the rotational parts used to adjust the focus and f-stop to make them easier to use while wearing pressurised spacesuit gloves.
• AMC cinemas will not allow texting after a vociferous public response to an idea to test text-friendly screens.
The company's CEO Adam Aron changed his mind over experimenting with the idea of having some cell phone friendly theatres.
The notion was met with loud public criticism from both consumers and Hollywood creatives.
Aron said the idea is now on the cutting room floor thanks to the outcry and that there would be no texting in any AMC theatre in the foreseeable future.
• A DUCK that lost its feet to frostbite is waddling again thanks to a US school teacher and a 3D printer.
Vicki Rabe-Harrison rescued Phillip the duck and, after watching a video of a 3D printer online, turned to South Park Middle School teacher Jason Jischke in Oshkosh, Wisconsin, for help.
She said she was planning to put Phillip down when Mr Jischke called to say he and his class were working on the project. It took them six weeks of trial and error to get the prosthetic feet just right.
Phillip was a bit wobbly when he first tested his new feet, but has now joined other birds and animals at a sanctuary north of Milwaukee.
• VISA says it's improving its smart chip-embedded cards, which have been the source of grumbling from businesses and customers forced to wait for transactions to be processed.
The company said yesterday that Quick Chip for EMV will let customers dip and remove cards, usually in two seconds or less, without waiting for purchases to be finalised.
Though the wait can be just seconds, in today's economy of swipes and scans, the cards have been a nuisance for high traffic retailers, for example, a coffee shop during the morning rush.
• A COLLISION between a British Airways passenger jet and a drone over London has left the plane undamaged but the aviation industry deeply shaken.
British police and air accident authorities are investigating Sunday's incident, in which an Airbus A320 carrying 137 people struck an object believed to be a drone at a height of about 1,700 feet while it was approaching Heathrow Airport.
The plane landed safely and was cleared to fly again after an inspection by engineers.
But the incident has focused attention on the growing number of unregulated drones in the sky and the potential for disaster if they hit a plane, either accidentally or on purpose.