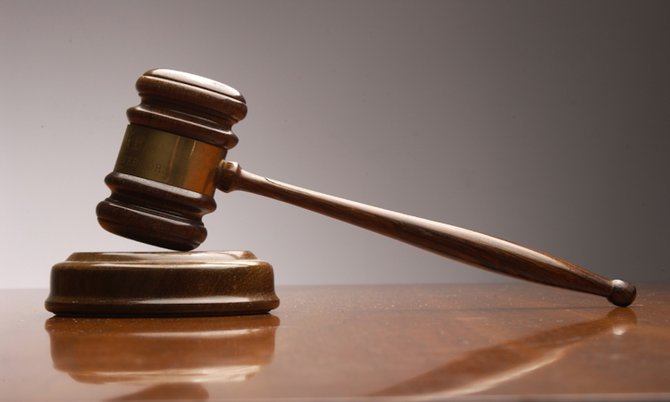 By LAMECH JOHNSON
Tribune Staff Reporter
ljohnson@tribunemedia.net
THE lawyer of accused bribe taker Freddie Ramsey grilled a prosecution witness yesterday on whether his client truly had influence in the awarding of a multi-million dollar project from the Bahamas Electricity Corporation to a French company that, from draft letters sent to the witness, had already met with the head of Cabinet.
Wayne Munroe, QC, resumed his cross-examination of American Mark Smith that started on Wednesday after Smith had given evidence concerning his role in an Alstom SA/BEC bribery scheme to win the New Providence Expansion Phase Three contract with BEC.
The jury previously heard from Smith that Alstom SA [formerly ABB Generacion] had written letters intended for then Prime Minister Hubert Ingraham and then Deputy Prime Minister Frank Watson as the company wanted BEC officials to reconsider the bid it felt was going to be rejected.
A response had been given by Patrick Hanna, BEC's assistant general manager in December 2000, that the company's letters were not only inappropriate but were also in breach of the terms of the bidding process where they risked their bid being rejected outright.
Mr Munroe yesterday asked the witness to look at the letter drafted by ABB/Alstom that they were going to send to Mr Ingraham.
Ramsey's lawyer asked Smith if he agreed that the letter was suggesting Abel Santamaria, an official of ABB Generacion, already had a meeting in October 2000 with the former prime minister that was facilitated by the Spanish ambassador.
Smith said yes.
"So the honourable prime minister clearly wasn't clueless and asked certain questions," Mr Munroe suggested. Justice Bernard Turner interjected, noting that the witness could not speak to the state of mind of Mr Ingraham.
Mr Munroe conceded the point and asked a different question.
"Were you aware the deciding authority for the bid was the Cabinet of the Commonwealth of The Bahamas?"
"Yes," Smith said.
Mr Munroe asked: "And this was the head of the Cabinet saying this concerned me?"
Smith said this was correct.
"Mr Ramsey had nothing to do with that?" the witness was asked. Smith said no.
Mr Munroe probed Smith on his educational background prior to working for his father at Burnside International and creating his own firm called M Smith Inc.
Smith confirmed to Ramsey's attorney that he graduated high school in 1977, did a year a Miami-Dade County College as a business administration major before enrolling in the same major at the University of Miami.
However, he left the institution without a degree after one year of study.
Mr Munroe asked Smith if he had any bank accounts in the United States other than at Bank Atlantic.
"I had Bank Atlantic and Bank of America," the jury heard.
When asked if he had supplied bank records for those accounts, Smith said
he "only produced what was subpoenaed."
"And you have two plea agreements right?" Mr Munroe asked. Smith said yes.
Upon questioning, he said Mr Munroe would have to ask his lawyers for copies of the documents.
Mr Munroe asked the witness if he agreed that the alleged consultancy agreement between Burnside International and ABB Generacion "contained representations that you had authority to sign."
"I'd say that's correct," Smith said.
Mr Munroe asked the witness to look at the DA-11 contract and asked if ABB had caused BEC extra expenses.
"I assume so," the witness said.
"What correspondence did you send to ABB letting them know of this allegation?" Mr Munroe asked.
Smith said he did not deal with that information or internal process, claiming that it was Ramsey's role.
"We're going to suggest you're talking a bunch of nonsense," Mr Munroe said.
"Mr Ramsey was the one talking, wherever questions came up, I spoke to ABB. In this case it was a verbal back and forth," the witness said.
"So you can't remember anything that passed between you?" Mr Munroe asked. Smith said no.
Mr Munroe then referred Smith to a notation within the same document concerning "granted extension and corresponding structure changes" and asked him to explain.
"What I was passing on, I was just passing on," Smith said.
"Do you know what liquidation damages are?" Mr Munroe asked, still referring to the document in question.
Smith said: "Not in this context."
" . . . So you got paid $199,300 providing information to ABB they already knew?" Mr Munroe asked.
The prosecution objected to the "mischief" questioning.
Ramsey's lawyer withdrew the question before focusing on a reconciliation document concerning alleged payments and deductions from Ramsey's cut for outstanding debt relating to the import-export company, Caribbean Supplies Bahamas Ltd.
Mr Munroe later asked Smith if he had ownership interest in his client's company.
"Yes but never acted on it," Smith said.
"I suggest you, your father (Ted Smith) and Mr Ramsey were doing business around the world," Mr Munroe said. Smith did not agree.
He accepted that there was a billing to a company in Denmark but insisted it was one instance.
"Your evidence here is that you became involved in acquisition of DA-12?" the lawyer then asked.
Smith said yes and accepted the subsequent suggestion that he became more involved.
"This consultancy cover was just a cover, correct?" Mr Munroe asked. Smith said "correct."
Mr Munroe asked: "Why did you go through all the problems to challenge things that were just a cover?"
Smith said he was tightening the contract "to make sure they couldn't weasel out of it."
Mr Munroe suggested that a clause in the agreement was that government employees or Cabinet ministers had to be avoided during the bidding process. Smith agreed.
"Did you understand that at some point ABB was seeking a legal opinion about this contract?" Mr Munroe asked. Smith said he could not recall.
"In fact, ABB was telling you this was a standard contract," Ramsey's lawyer suggested. Smith said yes.
Mr Smith's cross-examination was postponed, as former Chairman of the BEC Board J Barrie Farrington was called to the witness stand in the afternoon session of court.
Farrington confirmed that he was appointed to the BEC board in 1994 where he remained until 2002.
Farrington confirmed that there was need for additional generation of electricity between 1999 and 2002.
He noted that a sub-committee of the BEC board was formed for the project, comprised of Vincent D'Aguilar, Philip Beneby, Brian Moree and Fred Ramsey where they were to report to the board after meeting with BEC's consultants to get an understanding of the evaluations in conjunction with BEC management.
They were to make a recommendation after carrying out these functions.
"The DA-12 contract, did you receive a recommendation from the sub-committee?" Prosecutor Garvin Gaskin asked.
Mr Farrington said a decision was taken that BEC should engage Hanjung, a Korean company, for installing the DA-12. He confirmed that there are minutes of board meetings in the fall of 2000 confirming this.
"Was there a DA-11 project?" the prosecutor asked.
Mr Farrington said yes but noted it was prior to when he was appointed to the board.
The prosecutor asked Mr Farrington if he was aware of a $56,000 cheque made out to Ramsey. The ex-board chairman said he was not.
"Are you aware of any other board member being paid?" the prosecutor asked. The witness again said no.
"It's absolutely contrary to every principal of good conduct I can think of," the witness added.
"Did the board authorise Fred Ramsey to receive funds from ABB Generacion/Alstom?" the prosecutor asked. Farrington said "absolutely not."
Mr Farrington said as a then chairman of the board, BEC paid him $15,000 a year.
Mr Munroe asked the ex-board chairman if board members had other jobs. The witness said yes.
"Do you know if Fred Ramsey had ordinary business dealing that would cause them to pay him?" the defence lawyer asked. Mr Farrington said no.
"Do I understand your evidence to be that DA-11 was already done at the time you joined the board in 1994?" Mr Munroe then asked. Mr Farrington said yes.
However, he said he could not recall if Ramsey was already a member of the board at that time.
He does recall, however, that Ramsey was not reappointed to the board in January 2001.
"At some point you were called into Cabinet where you were asked questions?" Mr Munroe asked.
Mr Farrington said yes, confirming that the BEC board was required to defend their decision to award the contract to South Korea's Hanjung notwithstanding that the ultimate deciding authority had been leaning towards Alstom.
"We made formal submissions to the deputy prime minister of why we made the decision to select Hanjung" the jury heard.
"This meeting was with Cabinet?" the lawyer asked.
Farrington said yes, reiterating that reasons had been set out to the deputy prime minister, who was Mr Watson.
"There was no indication that the government was not unhappy with the decision of the board," Mr Farrington added.
Mr Munroe said: "You were told the government was going in a different direction with ABB, and again the board unanimously decided of Hanjung?"
Mr Farrington agreed.
"No board member took the opportunity to prevail on anyone else to change their mind?" Mr Munroe asked. Mr Farrington said no.
Smith has received immunity from the prosecution notwithstanding his admission that he accepted a cut of hundreds of thousands of dollars to relay to Alstom SA information gathered by an insider to the tendering process that would bolster the French firm's chances at winning the contract bid over its South Korean rival, Hanjung.
Smith alleges that Ramsey, 79, struck a deal that allowed him to receive a third of some $600,000 as a paid informant for a French company.
Ramsey is currently on trial before Justice Turner on four counts of conspiracy to commit bribery and 14 counts of bribery allegedly committed between 1999 and 2003. He pleaded not guilty to all charges.
Ramsey is on $40,000 bail and is defended by Mr Munroe, Tommel Roker and Bridgette Ward.
Mr Gaskin, acting director of public prosecutions, is prosecuting the case with the assistance of Cordell Frazier.
The trial resumes today.