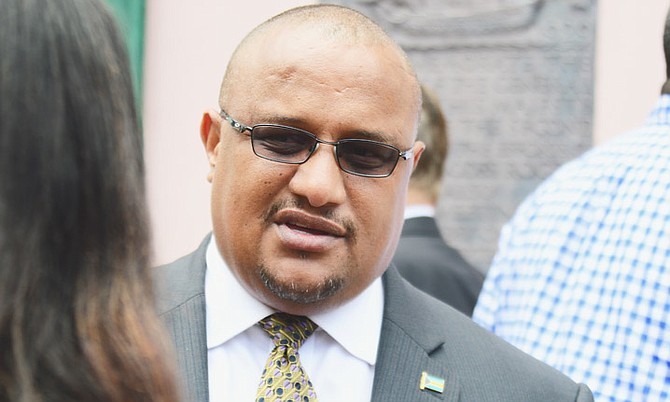 By RASHAD ROLLE
Tribune Staff Reporter
rrolle@tribunemedia.net
SOME parliamentarians are pushing the passage of the constitutional referendum's fourth bill because of their homosexual identity, Marco City MP Greg Moss suggested to a group of pastors yesterday.
His comments came during a forum for pastors hosted by the Save Our Bahamas committee, a group pushing Bahamians to vote "no" to the fourth proposed constitutional amendment, which aims to prohibit discrimination based on sex by inserting the word "sex" into Article 26 of the Constitution.
"Anybody who doesn't understand that we have people in the House [of Assembly] right now who are living a lifestyle they want to justify and validate by the passage of this legislation is just closing his eyes," Mr Moss said to applause from most of the nearly 50 pastors who attended the event at Evangelistic Temple.

"We have people in the House right now who are determined that if this is their last session in the House, their swan song will be that they brought their community into preeminence through the Constitution and they protected their right to really live their lifestyle after they're finished with the House. This is what's going on."
Mr Moss argued that parliamentarians don't have the "guts" to pass a law allowing same-sex marriage through Parliament, therefore they are promoting a platform that would allow the decision to be made by the courts.
"If you give that word 'sex', all judges can throw their hands up until it goes to the Privy Council," he said. "And you know what the Privy Council would do. Remember what the Privy Council did on hanging based on the reinterpretation of the Constitution?"
He was referring to the London-based Privy Council's previous decisions on capital punishment. The Privy Council is this country's highest court of appeal.
Even as some prominent religious leaders like Bishop Neil Ellis and Bishop Laish Boyd have urged Bahamians to vote "yes" to all four questions in the referendum, yesterday's pastors forum revealed hostility from many pastors toward the upcoming vote.
At one point, a pastor rose to his feet and stressed that the church should reject all of the Constitutional Amendment Bills, not just the fourth one.
"If the church is going to be against one bill, we should be against all," the pastor said to scattered applause.
The government rejects the idea that the fourth bill could lead to same-sex marriage.
The word "sex" refers only to one's status as male or female, officials have said, not sexual orientation.
Disagreeing with this, Mr Moss said: "My sex cannot just be me standing around looking in the mirror at what God gave me. My sex has to be much more than that. My sex is my sexuality. It includes the way I express myself, my sexual orientation; and if you give me that word as a lawyer I gon' run a train through it."
Mr Moss also criticised the Christie administration's decision to use public funds to fund the YES Bahamas campaign but not the campaign pushing for a "no" vote.
When asked by a pastor if the government should be sued over this, he pointed to a related case in Ireland and said local courts would rule it unconstitutional to use public funds in such a one-sided way.
However, he said they would not grant an injunction nor award costs to the winning party.
"If you expect to go and get money from the government to campaign against the government, that clock would run out on you and the referendum would be held long before that questioned is determined," he said.
The first bill would give Bahamian women who are married to foreign men the right to pass on their Bahamian citizenship to any child of that union no matter where that child is born. The Constitution currently says that only Bahamian male citizens by birth have that right.
Bill two would give a Bahamian woman married to a foreign man the right to secure for her husband the same access to Bahamian citizenship as a Bahamian male has in relation to his foreign wife.
Bill three would grant any unmarried Bahamian man the right to pass on his Bahamian citizenship to any child he fathers with a foreign woman with proof of paternity.
The referendum will be held on June 7.