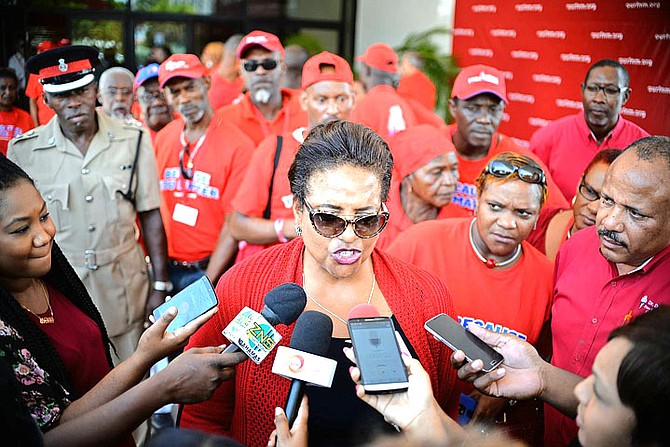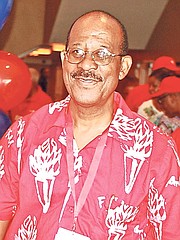 By SANCHESKA BROWN
Tribune Staff Reporter
sbrown@tribunemedia.net
PARTY Chairman Sidney Collie said Long Island MP Loretta Butler-Turner did not withdraw from the Free National Movement's leadership race because the process was "corrupt" but because she knew "the tide was against her" and she could not win.
Mr Collie told The Tribune that Mrs Butler-Turner put on the "best show that she could" but she knew after giving her speech on the second night of the FNM's convention last week "her leadership race was over".
Mrs Butler-Turner's hour-long speech on Thursday night ended with angry Dr Hubert Minnis supporters chanting "Roc wit Doc" in an attempt to force her from the podium.
At one point during her speech, Mrs Butler-Turner also called for FNM parliamentarians, senators and candidates to join her on stage in a show of solidarity. However, only her running mate for deputy leader, Dr Duane Sands, stood by her side.
In his address to FNM supporters minutes after Mrs Butler-Turner, FNM Deputy Leader Peter Turnquest publicly criticised her for being "disrespectful" for running beyond her allotted 25 minutes for her speech.
In a surprise turn of events hours later, around 2am, Mrs Butler-Turner and Dr Sands withdrew from the leadership race.
In a press conference on Friday afternoon, Mrs Butler-Turner said her decision to quit was based on two reasons - "a process full of irregularities and deep structural issues" and Mr Turnquest's public rebuke of her.
However, Mr Collie said there was no corruption of the process and "every one" of Mrs Butler-Turner's concerns were addressed before the convention.
"The tide was against her. She put on the best show she could but it was not enough. I understand what she went through. I ran twice, won once and lost once," Mr Collie said.
"It was clear when she called her own members and others to join her on the platform and no one showed up that it was over. That was the moment of truth for her. I must say, she did well to finish her speech regardless of what she was feeling.
"The hall erupted into 'Roc wit Doc' and no one told them to do that; the tide was just against her. Her people gave her advice and she ran with it. It had nothing to do with the process. She knew it was over the minute she started her speech."
Despite the "bad blood" before and during the convention, Mr Collie said he fully supports Mrs Butler-Turner and is advocating for her to have a leadership role in the party.
"Mrs Butler-Turner has become an integral part of this team and the full force of the party is behind her. There is a leadership role for her to play," Mr Collie said.
"Not as leader or deputy but she has a strong voice in the party and we embrace her 110 per cent. Whatever bad blood we had going into the party convention it is done and now we are in a place of forgiveness."
Mr Collie said "a unified FNM will stand together with Dr Hubert Minnis as our leader as the party positions itself to win the general elections and form the next government of the Bahamas".