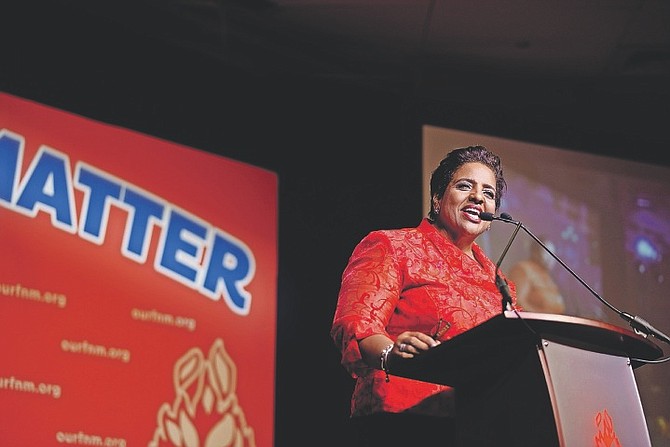 By KHRISNA VIRGIL
Deputy Chief Reporter
kvirgil@tribunemedia.net
LONG Island MP Loretta Butler-Turner yesterday revealed that the Free National Movement) has presented several offers to her, including a promotion to Leader of Opposition Business in the House of Assembly, in an effort to "buy her off" to step away from the plethora of issues she has with the organisation.
The MP rejected FNM Leader Dr Hubert Minnis' declaration that he was again extending the olive branch to her and suggested that this was no more than a sham to entice supporters to step away from their principal reservations with the party.
Central Grand Bahama MP Neko Grant currently holds the post of Leader of Opposition Business in the House.
Mrs Butler-Turner, the former FNM leadership hopeful, further confirmed that the FNM has also offered a ratification for her constituency, a prominent role on the party's general election campaign team and a senior Cabinet post should the party defeat the governing Progressive Liberal Party (PLP) in 2017.
"Did they even tell Neko Grant that this is a consideration? I am not for sale," Mrs Butler-Turner told The Tribune. "They are not going to offer me anything without the inclusion of the other members of Parliament."
"They can't just try to buy the people off. I am for the Bahamian people and will remain a voice of the people."
Meanwhile, a senior FNM who requested anonymity told this newspaper that the offers presented to the MP raised serious questions regarding the party's election process in addition to the motives of those at the helm of the organisation.
"If she is so bad and after lambasting her and dragging her through the mud, why now are they coming with offers? I find it a bit curious given all of the issues she's had with how the process itself went. One would begin to wonder if the process was really rigged from the beginning in an effort to ensure that Dr Minnis did remain party leader because he is power hungry."
Both Mrs Butler-Turner and former running mate Senator Duane Sands withdrew from the leadership race last Friday morning before party delegates went to cast votes for all executive posts of the FNM.
It was reported that the pair and several high-ranking FNMs – including the party leader – that day engaged in several hours of negotiations, but no resolution was agreed.
She later told the media that apart from Deputy Leader Peter Turnquest's harsh critique of her on Thursday night, which she said was the last straw, there had been serious challenges with the overall process. This included issues with the selection of the delegates and the final list of those persons. Her "Forward-Together" campaign also complained that the list was not readily available upon their requests.
"I did not accept any offer. I am not for sale. I am standing up for the Bahamian people. I withdrew because the process was flawed," she said.
"Now they want to offer me gifts? I am a voice of the people and there is nothing they can offer. They can offer whatever and I am not going to accept. I am not for sale.
She went on: "I will continue to fight for the Bahamian people and stand on the principles I believe in. They are still negotiating, but they are not going to offer me anything without the inclusion of the other MPs. Don't try to buy the people off.
"What they are trying to do is not extend the olive branch, but trying to make offers to make people step away from their principled positions."
She insisted that Bahamians, especially those in her constituency, would be "disappointed" should she accept any offers.
"The people and my constituents will be disappointed and saddened in me if I accept those things. They can't offer me anything. The people are the ones who'll make the decision on who stays and who goes."
In another instance, the former deputy leader also sounded off on social media site Facebook, accusing Dr Minnis of attempting to steal the convention and silence her voice by engaging in undemocratic practices.
However, many speculated that the mortician and the surgeon ultimately made the decision to pull out from the race after she struggled to present her platform during an hour-long speech which was met by Dr Minnis' supporters who chanted "Roc Wit Doc" as she tried to speak.
After surviving a second attempt in two years to thwart his leadership, Dr Minnis signalled on Friday evening that he would not purge the party of the high-profile members who have publicly criticised his leadership and help expose the party's bitter divisions.
They were his first public remarks following Mrs Butler-Turner and Dr Sands' withdrawal from the leadership race.
During this speech, he confirmed that significant concessions were offered to Mrs Butler-Turner and Dr Sands, but he did not reveal what they were.
"Tonight we offer the olive branch once again to our sister Loretta Butler-Turner, who I'm certain will be our candidate in Long Island with my full support," he said.
"We have undergone a lot over the last few years," he added. "Our internal politics have been laid bare for all the world to see and it's not been pretty, but through it all we have maintained our integrity and focused on the points that unite us."
Regarding Dr Sands, he said: "My medical colleague and political colleague, we work close together in the hospital and I must say that on many occasions when I ran into surgical difficulties in areas that are outside my domain, Sands was there for me.
"Each of these worthy leaders are qualified and possess the experience to rescue this nation and to contribute mightily to its future success. It is our hope that they will accept our offer to continue being a valuable part of this leadership team. We have made significant offers to both to demonstrate our commitment to them and we earnestly hope they accept."
Dr Sands did not offer comment yesterday when he was contacted, saying he was out of the country and would not make any public comment until his return.