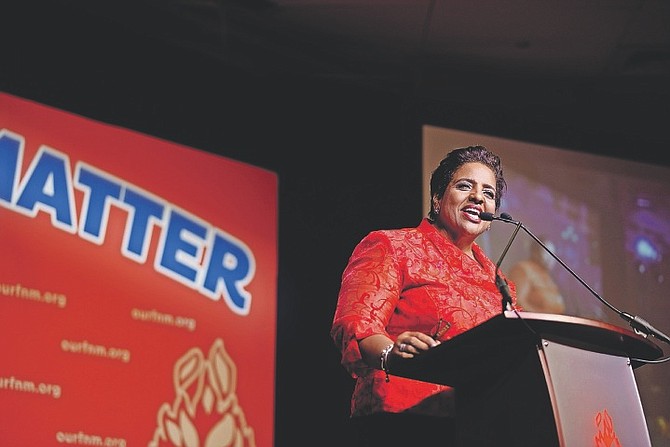 By RASHAD ROLLE
Tribune Staff Reporter
rrolle@tribunemedia.net
DAYS after saying she "can't be bought" by the Free National Movement, Loretta Butler-Turner yesterday made her strongest move since the party's controversial convention to help heal the wounds in the party as she urged her supporters to back Dr Minnis and his leadership team.
Taking a markedly different tone from previous statements, Mrs Butler-Turner appealed for the party and the wider public to be patient with her as she continues to "grow and change".
She also confirmed her acceptance of the party's nomination to run in the Long Island constituency at the next general election.  
"It is my fervent hope that unity will be achieved through a spirit of collegiality, dialogue and mutual respect from all within the party," she said.
Her statement marks a remarkable turnaround for her and could prove crucial for the party's efforts to reverse the impact of highly publicised and caustic infighting that has raised questions about its ability to successfully challenge the Progressive Liberal Party next year.
Indeed, as recently as last week Tuesday Mrs Butler-Turner appeared unprepared to fall in line under Dr Minnis' leadership.
After Dr Minnis extended an olive branch to her during his closing speech at the party's convention two weeks ago, on Tuesday she said "I am not for sale" in response to reports that Dr Minnis and his team made offers to her, including one to be made Leader of Opposition Business in the House of Assembly.
Given her new pledge to work towards party unity, it is unclear if Bahamians will get a response from the party to accusations from her that its convention election process was rigged. She accused party leadership of engaging in criminal and corrupt behaviour when she dramatically withdrew from the leadership race two weeks ago.
Last night, Dr Minnis said the party welcomed her call for unity and said it confirmedthe "longstanding belief" that the FMN would unite after the convention.
Yesterday, Mrs Butler-Turner said: "I urge those FNMs who may be thinking of not registering to vote, to please register and to please re-engage with us."
"I ask the FNM voters to support the FNM candidate in their constituency and to encourage FNMs to do likewise. Our task now as FNMs is to regain the trust and the confidence of our core voters and of non-aligned voters. This requires good leadership, the best and brightest candidates, a compelling vision and a viable policy agenda for the country."
Mrs Butler-Turner said: "Those of us who offer for public service must acknowledge error, learn from our mistakes and then set out to become better public servants. In this spirit I take account of public criticism and hope that any errors of mine will be forgiven."
"Every institution and individual must always be open to change and growth. It is also my fervent hope that the FNM continues to be open to such change and growth. For my part, I seek God's guidance and grace, and your patience, as I continue to grow and to change."
Mrs Butler-Turner's comments came after the FNM held a secret leadership conclave over the weekend.
Although, neither she nor Dr Duane Sands attended the event, The Tribune understands that they had representatives there.
Contacted yesterday, former Deputy Prime Minister Frank Watson said: "It was very positive and I was pleased with the general attitudes around the table,"
Nonetheless, party officials did not discuss details of the meeting or say whether any concrete commitments were made during the session.