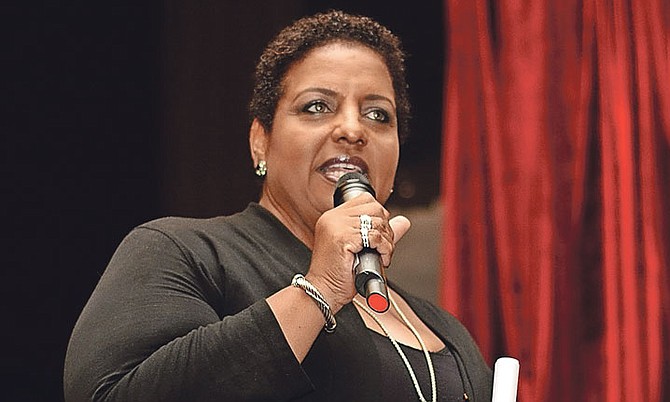 By NICO SCAVELLA
Tribune Staff Reporter
nscavella@tribunemedia.net
PLP Chairman Bradley Roberts has questioned Long Island MP Loretta Butler-Turner's recent call for her supporters to back Free National Movement Leader Dr Hubert Minnis, calling on Mrs Butler-Turner to reveal what led her to "remain quiet and shamelessly sing Dr Minnis' praises".
Mr Roberts claimed that her sudden turnaround from her previous accusations against Dr Minnis and the FNM's top brass suggests that Dr Minnis made Mrs Butler-Turner "an offer she could not refuse".
Mr Roberts also called on the Long Island MP to "come clean with full, frank and honest disclosures" over the alleged "corruption" she previously claimed is rampant in the FNM under Dr Minnis' leadership, questioning if her statements were true or if she was misrepresenting Dr Minnis "because (she) could not win the leadership race" at the FNM's convention two weeks ago.
Mr Roberts' statement on Sunday came hours after Mrs Butler-Turner released a statement in which she urged her supporters to back Dr Minnis and his leadership, her strongest move since the party's controversial convention to help heal the wounds in the party.
Just days after saying she "can't be bought" by the FNM, Mrs Butler-Turner appealed for the party and the wider public to be patient with her as she continues to "grow and change."
She also said she would accept the party's nomination to run in the Long Island constituency in the next general election if her constituents wanted her to do so. However, last Tuesday, Mrs Butler-Turner revealed that the FNM had presented several offers to her, including a promotion to leader of opposition business in the House of Assembly, in an effort to "buy her off" to step away from the plethora of issues she has with the organisation. At the time, she also confirmed that the FNM has also offered a ratification for her constituency, a prominent role on the party's general election campaign team and a senior Cabinet post should the party defeat the governing Progressive Liberal Party in 2017.
Mr Roberts also called on Mrs Butler-Turner to clarify whether her claims of corruption in the FNM under Dr Minnis' leadership were true or if she merely made them because she saw "the agony of defeat" before her in the party's convention.
Mr Roberts referred to statements Mrs Butler-Turner made on Facebook late last month, in which she accused Dr Minnis of doing everything possible to "silence" her voice and "steal" the party's convention.
Mr Roberts also referred to statements made by former FNM Chairman Darron Cash, one of Mrs Butler-Turner's supporters, that Dr Minnis ran a racially-divisive campaign during the convention.
He questioned which narrative was correct and urged Mrs Butler-Turner to "clarify this double-talk as your credibility is on the line."
He added: "In all my years in politics, I have never heard of a politician throwing him or herself under the bus. I have heard about politicians being thrown under the bus, but (Mrs Butler-Turner takes) the cake - she threw herself under the bus along with her dignity, integrity and self respect in one fell swoop."
On Sunday night, Dr Minnis said in a statement that the party welcomed Mrs Butler-Turner's call for unity and said it confirmed the "longstanding belief" that the FNM would unite after the convention. Dr Minnis said with Mrs Butler-Turner's pledge for unity, the party stands "unified and ready to take the fight to the inept PLP."