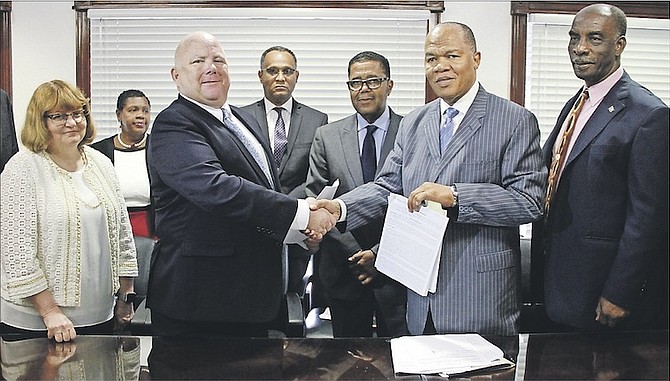 By NICO SCAVELLA
Tribune Staff Reporter
nscavella@tribunemedia.net
AN international healthcare technology provider was awarded an $18m contract by the Christie administration yesterday for the implementation of an integrated health information system to improve the accessibility of patient records at the country's various public health facilities.
Allscripts Healthcare Solutions Inc, along with their strategic partner Infor Lawson, yesterday signed a contract worth $18,389,368 with the Public Hospitals Authority (PHA) for the implementation of what government officials called a "one patient, one record system".
This would allow for universal access of patient records by the clinics and services of the Department of Public Health and the public hospital institutions and facilities of the PHA.
Government officials said the new system would replace the Keane Insight platform currently operated by the PHA and the IPHIS system currently operated by the Department of Public Health.
Health Minister Dr Perry Gomez, on hand for yesterday's contract signing, said it signified a "considerable investment" by the government in "modernising information management throughout our healthcare sector."
"What this means for patients who access public healthcare, is that there will be a one patient, one record system that can be accessed no matter where they are seen, so it will not matter where you go on the public healthcare system for care, your medical record will follow you," Dr Gomez said.
"We are now saying goodbye to the duplication and inefficiencies associated with maintaining different records for the same patient simply because he or she may be seen at different public health clinics or public hospitals within our archipelago."
According to Dr Gomez, the implementation of the system will facilitate the automation of, but is not limited to, patient access and identity management, patient accounting, health record information management, materials management, document imaging, and pharmacy management.

Dr Gomez said the implementation of the new system is also crucial to the eventual implementation of National Health Insurance (NHI).
"IHIMS, ladies and gentlemen, represents a significant mark of progress in our redevelopment of public healthcare in this country and given the imminent launch of (National Health Insurance), an aggressive plan will be put in place to ensure the implementation in the shortest time frame."
Minister for Grand Bahama Dr Michael Darville said yesterday's contract signing will "significantly benefit" residents of Grand Bahama as well as those in the northern Bahama islands.

"The execution of this agreement and the implementation of a single medical records platform across all public health services represent the culmination of a decades-long journey for the health sector of the Bahamas," he said.
He added: "As one might imagine, the involvement of NHI consultants and others, speaks to the (PHA) looking ahead to the approaching launch of the first phase of the (NHI) programme. I am pleased to say that by every measure, the features of the IHIMS platform are adequate to meet the needs of NHI."