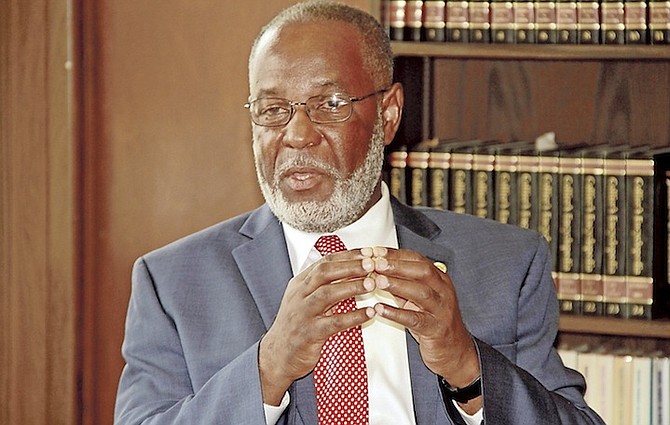 By AVA TURNQUEST
Tribune Chief Reporter
aturnquest@tribunemedia.net
NEARLY two years after the government rolled out its new immigration policy to clamp down on illegal migration, the Haitian ambassador yesterday described a cumbersome, sluggish and disorganised process marred by ethnic profiling, that ultimately created a "dead end" for unregularised persons of Haitian descent in the country.
In a frank discussion with The Tribune on the efficacy of the new policy and its impact on the migrant community, Haitian Ambassador Jean Victor Geneus categorically stated that the introduction of the belonger's permit did not solve the problem, pointing to a backlog of some 2,000 applicants waiting for the "restrictive" document.
He admitted that sometimes the Haitian government was very concerned by what appeared to be discriminatory practices against Haitians in the Bahamas.
Mr Geneus noted that he has not yet had an official meeting with Foreign Affairs and Immigration Minister Fred Mitchell since he assumed the post 10 months ago, but that he would make it a priority as his government was anxious to begin formal talks on greater collaboration between the two countries on common ills of trafficking of drugs and persons.
Seeking to illustrate the on-the-ground realities that his embassy confronts as a result of the country's new policy, the ambassador revealed that officials were currently seeking an explanation from the Immigration Department on the scheduled deportation of three children.
Mr Geneus said: "(Tuesday) I asked two professionals of the embassy to go to the immigration authorities to find out why three kids, twins aged seven and one aged 10, why they have to go back to Haiti? And nobody can tell us who is the legal person responsible for them. They will be deported this coming Thursday, but we still don't know. If they are deported without any adult, any legal parents it would be a violation."
In November 2014, the government introduced a stricter immigration policy that, among other things, requires every non-Bahamian to have a passport of their nationality.
The country came under heavy fire from local activists and international human rights agencies that expressed concerns that it was an opaque process that targeted Haitian migrants who were profiled, arrested and deported without due process.
Persons born in the Bahamas to foreign parents must obtain documents of their parents' origin before they are able to apply for Bahamian residency or citizenship at 18.
Mr Geneus said: "To do so you have to go back to Haiti and apply at the Bahamas embassy, and you have a very short deadline to do it, one year. If you don't do it you lose the opportunity. Before they were giving the certificate of identity that could be used for travelling, for school enrolment, to open a bank account, now they are giving a belonger's permit, a belonger's permit with restrictive aspects.
"I think there are some alternatives to this problem because when you force, when you have so many legal and administrative problems you force these people, you complicate their situation because it is cumbersome, it is complicated, it is costly for them to regularise their status in this country," he said.
"We believe for people already holding jobs or some activities, the government for some years now could regularise their situation and after that if they want to crackdown on new arrivals that would be understood.
"But if you complicate the situation for those already here it is like a dead end."
Mr Geneus added: "The child that is born here, it does not have any idea of Haiti. He doesn't speak the language, and he has to go to Haiti to apply for (Bahamian) residency, then after for citizenship. It is a long and complicated process."
The ambassador also took issue with the stipulation that applicants must apply at the local Bahamas mission in their parent's country of origin, adding that while it was unclear, the perception was that applicants were then forced to remain in the foreign country until the application was processed.
He said officials still held the view that eligible persons could have obtained temporary permits to stay in the Bahamas until they are regularised.
"It is costly, it takes time, and administratively it is very cumbersome," Mr Geneus said.
"As an alternative, we believe these people could have obtained a temporary permit to stay in the country until they are regularised.
"Also we believe if you have a steady job of, let's say, at least five years, you pay taxes, you have no criminal records, and it is not an activity that Bahamians are interested to do, why deport these people?"
The Haitian ambassador acknowledged the burden the large Haitian community placed on the Bahamian government, particularly in terms of immigration control. He conceded that the political instability in Haiti did nothing to resolve or change the economic and political factors influencing Haitian migration to the country - and to this end, underscored the critical importance of Haiti's upcoming presidential elections and the need for regional watchdogs.
When asked whether he felt conditions had normalised since the new immigration police was introduced, Mr Geneus said it was evident that it had not.
He referred to comments made by Archbishop Patrick Pinder during his homily at St Francis Xavier Cathedral in January. Archbishop Pinder decried the suggestion by Wayne Munroe, QC, of flogging illegal immigrants as a solution to illegal migration challenges, calling the proposition uncivil and indicative of a "spirit of inhumanity among Bahamians."
Archbishop Pinder made a similar appeal for tolerance during the annual Red Mass service in January 2015. At that time, he urged Bahamians to consider the positive socio-economic impact of migration as the government continues to battle immigration challenges, adding that too often the debate is focused on the perceived negative effect illegal migrants had on employment and social services along with cultural differences.
The government has repeatedly denied accusations of profiling, and the characterisation of apprehension exercises as "round-ups".
However, Mr Geneus insisted yesterday that the claims were not a widely held perception, but a reality.
"It is not a perception," he said. "It is a reality because there have been recurrent actions of immigration officials even in public transportation. Definitely there is profiling because many times Bahamians have been arrested and then they find out that they are not Haitians, they are Bahamian.
"If the process is very complicated, and it takes years to regularise your situation, your status here in the country, and at the same time finding yourself in a position where anytime day or night you can be victim of a crackdown - this definitely has a psychological impact on you."
He said: "The consequences are so tremendous that there are Haitians, they are afraid of sending their kids to school, afraid to bring their kids to the hospital for fear of being nabbed up by immigration officers and deported.
"The rounding up and deporting is not going to solve this situation that has existed for more than 60 years," he added.