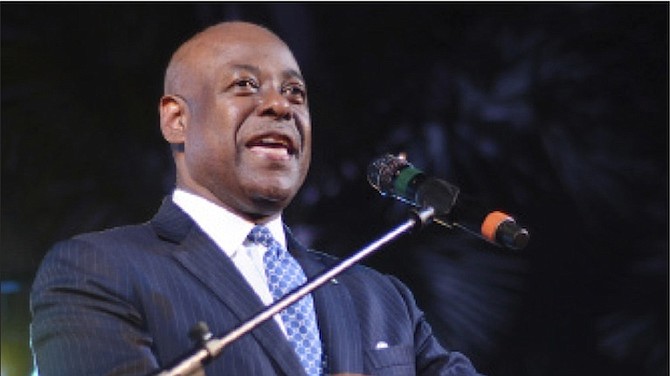 By KHRISNA VIRGIL
Deputy Chief Reporter
kvirgil@tribunemedia.net
PRIME Minister Perry Christie will win the Progressive Liberal Party's leadership race by a "landslide" because he not only continues to resonate with party delegates, but he has proven that he has what it takes to keep the organisation together, West Grand Bahama and Bimini MP Obie Wilchcombe has predicted.
The tourism minister said PLPs view Mr Christie as having ensured the government made historical moves to advance the country and will not challenge him to cause "disequilibrium".
Mr Wilchcombe went on to hint that there is no one else in the PLP who could defeat the prime minister in the upcoming convention, as "he always wins in conventions." He stepped away from previous assertions when he revealed that he wanted to be leader of the organisation.
Instead, when The Tribune questioned him about this yesterday outside of the House of Assembly, the MP suggested that he was not prepared at this time to lead the PLP. He said he would contest the top post of the governing party whenever Mr Christie decides to retire.
This came the day after Marathon MP Jerome Fitzgerald told reporters that former Attorney General Alfred Sears' chances of defeating Mr Christie in the PLP's leadership race during its convention were "slim". He also questioned the timing of Mr Sears' leadership bid.
Mr Sears on Sunday announced his intention to challenge Mr Christie during the PLP convention in November.
"I believe that Mr Christie will be returned," Mr Wilchcombe said. "In fact, I am very confident that he will have a landslide victory in the upcoming convention.
"We support Perry Christie. Perry Christie will be the leader going into convention and post-convention.
"We don't want to find our party in a situation where we are fighting for leadership at this particular stage."
He continued: "Perry Christie has put a number of things in place. In fact today we are negotiating very historic legislation and that's all intended to advance the country and this is on Perry Christie's run. This is on his watch and we're not going to cause any disequilibrium at the moment. We are going to maintain the status quo.
"Mr Christie has proven that he has kept the party together and throughout the country enjoys the support of PLP delegates, that's what's fundamentally important. So all internal matters pertaining to our party we want to discuss inside the house not outside the house and so there is no criticism to be made of anybody who wishes to consider for leadership. We have to do what we are going to do inside.
"But I guarantee you that Perry Christie will remain leader of the PLP."
Asked about his aspirations to lead the PLP, Mr Wilchcombe said he has not given up this goal, but will support the prime minister until he no longer heads the party.
"No my aspiration remains, but your aspiration is also predicated on preparation. What you do as you aspire is you have to prepare. If you want to be a great athlete you have to continue to work and prove your capacity.
"The same holds for politics. If you want to lead an organisation then first of all you have to understand the organisation. You have to work hard. You have to get those involved in the organisation to support you and see your value and then at the right time you propose. But that will happen at the end of Perry Christie's leadership because the party works that way.
"We are a system where the structure of an institution that we understand that things should be done in decency and in order. So, no, I have not given up my aspirations. My aspirations are predicated on preparation. So I have to prepare."
He added that the party will not lambaste Mr Sears or "bad mouth" him to ensure that the convention does not mirror the Free National Movement's event two weeks ago.
"We are not going to hurt any member of our team. It is not time for bad mouthing because one of the things that is important is if a member of your team seeks to be in any position we cannot cause for negatives to be associated because at the end of it all he is still going to be on your team.
"We saw recently you can't take back what you say or take back the documents from the table if you have painted your leader in a particular way. It is going to be difficult to campaign ahead and tell the country that this is not what you think of the leader you are asking to lead the country."
On Tuesday, Mr Fitzgerald, a strong backer of the prime minister, was adamant that Mr Sears would find difficulty in receiving the nod from members of Parliament who might be apprehensive to support someone as their leader who is not a current MP and has been out of front line politics for many years.
He said while he could not predict the tone that the PLP's leadership race will take, Mr Fitzgerald urged supporters not to release the "dogs of war" on Mr Sears, whom he praised as a man of integrity with good social standing. The party is expected to head into a five-day convention during the last week in November.
Mr Christie has said he does not feel threatened by Mr Sears' bid to challenge him in the upcoming convention.