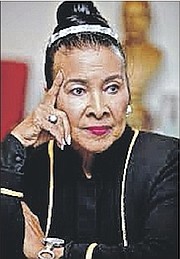 DR Xernona Clayton, the woman who drove Dr Martin Luther King to Memphis just before he died, made a wrong turn on her way to the airport.
Today Dr Clayton has turned her grief to recognising and helping people. She founded the world famous Trumpet Awards that have brought many outstanding people to the forefront. Some of those have included our own Prime Minister Perry Gladstone Christie, the late Myles Munroe, Sir Franklin Wilson and many other Bahamians.
Dr Clayton will be in Nassau on October 29, to be the guest speaker at the 2016 R E Cooper Meritorious Award celebrations at the Atlantis Ballroom, Paradise Island.
Dr Clayton, who is celebrating her 86th birthday this month, was born in Muskogee, Oklahoma. She was an American civil rights leader and broadcasting executive. During the Civil Rights Movement, she worked for the National Urban League and Southern Christian Leadership Conference, where she became involved in the work of Dr Martin Luther King Jr. She then went into television, where she became the first African American from the southern United States to host a daily prime time talk show. She became corporate vice president for urban affairs for Turner Broadcasting.
She later created the Trumpet Awards and the Trumpet Awards Foundation.
The 2016 R E Cooper Meritorious Award for Service will also feature Fr George Clements as guest speaker.
More than 22 people will be recognised and honoured and four posthumous awards will be given out.
For more information on the upcoming event, visit www.recooperaward.org