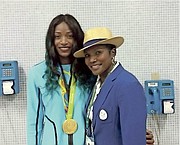 By BRENT STUBBS
Senior Sports Reporter
bstubbs@tribunemedia.net
RIO de Janeiro, Brazil — From one Olympic champion to another, IAAF Councilwoman Pauline Davis-Thompson said it was an honour to present the medal to Bahamian women's 400 metre champion Shaunae Miller during the presentation in the Olympic stadium on Tuesday night.
The presentation was done following the awesome performance on Monday night when she had a famous dive across the finish line to hold off the late attack from American Allyson Felix, who last year came away with the gold at the IAAF World Championships in Beijing, China where she ran away from Miller.
"Shaunae had an amazing performance. She is a very gifted and talented athlete. I was very happy to see that she really wanted it and she went after it from the gun," Davis-Thompson said. "She is our future and she continues to hold her head, she should have a terrific future ahead of her."
Davis-Thompson said she was delighted to have been able to join Miller, especially after the fact that she (Pauline) didn't get to celebrate in that manner when she won the silver in the 2000 Olympics in Sydney, Australia, but was eventually awarded the gold after the games because of a doping ban on American Marion Jones.
"The medal is really for her family to touch and feel because of all the love and support that they have given to her," said Davis-Thompson, who was presented with her gold in a ceremony at Government House. "But to have the national anthem played and the flag raised is for all of the Bahamian people. This was our time to celebrate with her."
Obviously, the celebrations are just starting to build for Miller.
For their part, the Ministry of Youth, Sports and Culture's director of sports, Timothy Munnings, said the government's policy calls for Olympic individual gold medallists to receive $40,000 and hopefully she will receive that.
As a part of interest, $30,000 goes for silver and and $20,000 for bronze. All members of the relay teams will split $80,000 for gold, $60,000 for silver and $40,000 for bronze.
As for the celebratory activities on her return home, Munnings said the Ministry of Youth, Sports and Culture staff is currently putting everything in place and in short order, an official statement will be made.
As a former quarter-miler, Munnings called Miller's performance one of the greatest in Bahamian history.
"Shaunae did a fantastic job. We knew that Allyson Felix was a definite threat. She's an experienced runner, so I knew that Shaunae had to take it out," her said. "When the gun cracked, she was so aggressive. I've never seen her that aggressive, I knew it was all over. Allyson made an attempt to come back on her, but Shaunae held on, it was all over."
Now the celebrations begin and the remunerations will start to kick in.
And Bahamas Olympic Committee president Wellington Miller said he was delighted to witness the feat.
"It feels so good walking around the hotel and everybody congratulating you," Miller said. "She did a fantastic job and we look forward to bigger and better things from her in the future."