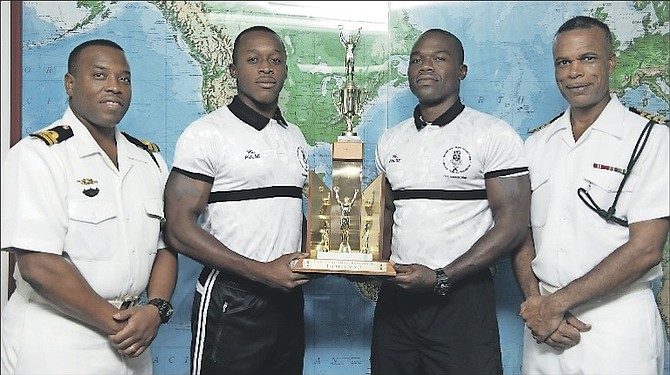 TWO Royal Bahamas Defence Force (RBDF) Marines have returned home after successfully completing the Physical Training Instructor's (PTI) Course.
Leading Seaman Quincy King and Able Seaman Otis Ferguson passed the rigorous training, hosted by the Trinidad and Tobago Defence Force, which was a seven- month course conducted at the University of West Indies Sports and Physical Education Center.
The course encompassed theoretical and a highly intense practical training curriculum in the various subject areas. These included aerobics, first aid, strength training, nutrition, Sociology in sports, gymnastics, anatomy and physiology, concept of fitness, injury rehabilitation, PT instructional techniques, sports equipment maintenance, track and field officiating, gymnastics, first aid, coaching and rescue swimming. Course participants also had an opportunity to further enhance their learning experience at the training camp by assisting with a variation of sporting events held on weekends.
Both Marines were awarded with a Certificate of Completion for their full commitment and hard work throughout the training phases. AB Ferguson was also successful in earning the "Most Fit Student Award" at the graduation ceremony. The award is earned by the participant who exemplifies the best physical performance in all aspects of training for the duration of the course.
LS King is a 13-year veteran who joined the Defence Force in 2004. He has served in the Supply Department as a cook onboard HMBS Coral Harbour and HMBS Bahamas. He later transitioned to the Commando Squadron department, where he has served as a Military Diver, Commando Squadron Weapons Instructor and Guard Commander. Following Basic Infantry training, he has specialised in Skill at Arms, Jungle Survival and the United States Brown Belt Marine Corp Martial Arts course. LS King said that the Physical Training Instructor's course has served as an additional element in his instructional skill set, thus strengthening the foundation of physical fitness with the knowledge of injuries and ways in preventing them.
AB Ferguson has served as a member of the Defence Force for seven years. He was stationed in the Headquarters Department prior to being attached to the Military Aid to Civilian Authority (MACA). He is presently attached to the Commando Squadron Department, where he is a qualified Military/Combat Diver, Combat Swimmer and an All Arms Commando. He has also participated in the US Marine Corp Close Quarter Battle course. He credits his recent participation in the Physical Training Instructors course for his desire to pursue a Master's degree in Sports Management in the near future.
In reflecting on his experience of the course, AB Ferguson said that the physical and mental demands, along with the vast academic work load allowed him to develop in areas of time management and leadership skills, while gaining a tremendous appreciation for sports and physical fitness.