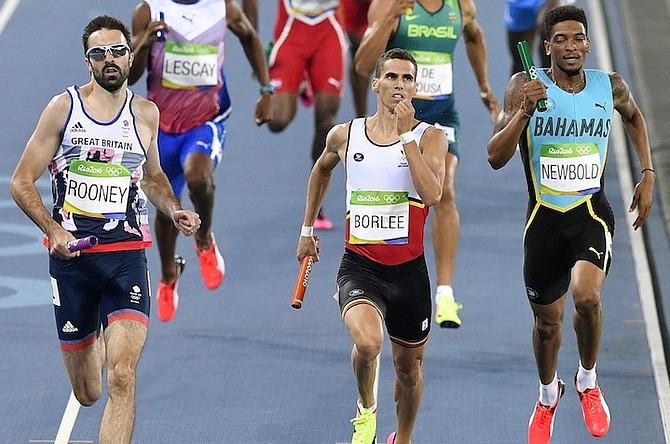 10.15pm: Brent Stubbs's report on the men's relay team race is now onine HERE.
10.00pm: The full report of the women's 4x400m race is online HERE.
8.35pm: Big news from Rio: Great Britain has been disqualified from heat two - meaning the Bahamas moves up to second place. India (heat two) is also disqualified and Trinidad and Tobago has been disqualified from heat one.
8.25pm: A thrilling race sees the Bahamas just lose the lead towards the end of the final leg for third and a place in the final. The time was a season's best of 2:59.64. Great Britain was first in 2:58.88, Belgium second in 2:59.25.
8.20pm: The Bahamas men's relay team is on the track now - running from lane six.
8.17pm: Heat one sees Jamaica (2:58.29), USA (2:58.38 ) and Trinidad and Tobago (2:58.84) take the top three places.
8.10pm: The men's relay team are up soon in heat two of the 4x400m - with a running order of Alonzo Russell, Chris Brown, Steven Gardiner and Stephen Newbold.
7.57pm: It's a sixth place finish for the Bahamas with a time of 3:26.36 - a national record. Jamaica was first with 3:22.38, Great Britain second with 3:24.81 and Canada came in third with 3:24.94.
7.52pm: The Bahamas is in lane six . . . here we go.
7.50pm: The USA cruised to victory in that first heat - finishing with 3:21.42 ahead of Ukraine with 3:24.54 and Poland with 3:25.34.
7.30pm: The women's 4x400m relay round 1 is fast approaching. The Bahamas is in heat two in this order Lanece Clarke, Anthonique Strachan, Carmiesha Cox and Christine Amertil running.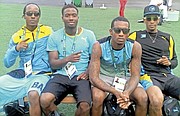 2.30pm: Looking ahead to tonight's relays - our preview stories are now online:
• 'Golden Knights' to defend their Olympic title without Ramon
• 'Our men, women 4x4 teams had their final shake-outs
• In fith Olympics, Amertil gets set for 4x4 relay
9.45am: Before the Olympic Games in Rio come to a close, we have the mouth-watering prospect of Team Bahamas in the relays. Here is tonight's schedule:
7:40 pm EST - Women's 4 x 400m relay preliminaries.
8:10 pm EST - Men's 4 x 400m relay preliminaries.
On Saturday, the schedule for the finals is:
9 pm - Women's 4 x 400m relay final.
9:35 pm - Men's 4 x 400m relay final.
Today's full Olympic schedule (all times local):
Athletics
Men's 50km Walk Final, 7am
Women's 20km Walk Final, 1.30pm
Women's Pole Vault Final, 7.30pm
Women's 4 x 400m Relay Heats, 7.40pm
Men's Hammer Throw Final, 8.05pm
Men's 4 x 400m Relay Heats, 8.10pm
Women's 5,000m Final, 8.40pm
Women's 4 x 100m Relay Final, 9.15pm
Men's 4 x 100m Relay Final, 9.35pm
Badminton
Men's Singles Semi-finals, Women's Singles Gold Medal, Men's Doubles Gold Medal, 7.30am
Basketball
Men
Semi-final: Spain v United States, 2pm
Semi-final: Australia v Serbia, 6pm
Boxing
Women's 75kg, Men's 52kg, 91kg-plus Semi-finals, Women's 60kg Gold Medals, 1pm
Canoe-Kayak (Sprint)
Men's C-2 1000 Heats, Men's K-1 200 Heats, Men's K-4 1000 Heats, Women's K-4 500 Heats, Men's C-2 1000 Semi-finals, Men's K-1 200 Semi-finals, Men's K-4 1000 Semi-finals, Women's K-4 500 Semi-finals, 8am
Cycling (BMX)
Men's Semi-finals, Finals,12.30pm
Women's Semi-finals, Finals
Diving
Men's 10m Platform Prelims, 3pm
Equestrian
Jumping Individual Final Round A, 9am
Jumping Individual Final Round B
Handball
Men
Semi-final: France v Germany, 2.30pm
Semi-final: Poland v Denmark, 7.30pm
Hockey
Women
Bronze Medal: Germany v New Zealand, 11am
Gold Medal: Netherlands v Britain, 4pm
Golf
Women's Third Round, 6.30am
Gymnastics (Rhythmic)
Individual All-Around Qualification, 9.20am, 1.50pm
Modern Pentathlon
Women's Swimming, 11am
Women's Riding, 1pm
Women's Combined Event, 2pm
Soccer
Women
Bronze Medal: Brazil v Canada, noon
Gold Medal: Sweden v Germany, 4.30pm
Synchronised Swimming
Team Free Routine (final), 11am
Taekwondo
Men's 80kg and Women's 67kg Prelims, 8am
Men's 80kg and Women's 67kg Quarter-finals and Semi-finals, 2pm
Men's 80kg and Women's 67kg Recaps, Final, 7pm
Volleyball
Men
Semi-final: Italy v United States, 11am
Semi-final: Russia v Brazil, 8.15pm
Water Polo
Women
Seventh Place, 9am
Bronze Medal: Hungary v Russia 10.40am
Fifth Place, 1.10pm
Gold Medal: United States v Italy, 2.30pm
Wrestling (Freestyle)
Men's 57kg, 74kg Group Stage, 9am
Men's 57kg, 74kg Medal Stage, 3pm