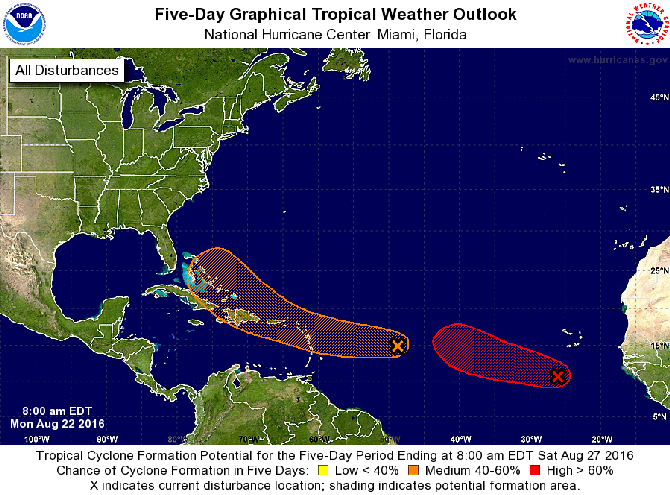 THE National Hurricane Center (NHC) is forecasting that a tropical 'wave' moving west-northwestward in the central Atlantic Ocean could develop into a cyclone as it tracks towards the southeastern and central Bahamas this week.
The NHC said on Monday that shower activity has increased over the past 24 hours in association with the tropical wave, which is located about 850 miles east of the Lesser Antilles. "Dry air near this system is expected to slow development during the next couple of days days while the disturbance moves westward to west-northwestward at 15 to 20mph," the NHC reported. "Environmental conditions could become more conducive for development late this week when the system is expected to move near Hispaniola and the southeastern and central Bahamas."
A US Air Force Reserve Hurricane Hunter aircraft is scheduled to investigate the system on Tuesday, if necessary. The forecasters estimated the chance of a cyclone forming over the next five days was "medium" at 50 per cent.
Satellite imagery on Monday morning suggests that a tropical depression is forming about 300 miles south-southwest of the southern Cape Verde Islands. The NHC expects this system to move westward to west-northwestward at 15 to 20mph over the eastern tropical Atlantic Ocean. It would be named Gaston if, as forecasters expect, it develops into a tropical storm.
Meanwhile, Tropical Storm Fiona, 495 miles north northeast of the Leeward Islands, has weakened to a depression overnight with winds speeds falling to 30mph. The system is moving at 17mph and is forecast to become a remnant low in the next 48 hours.