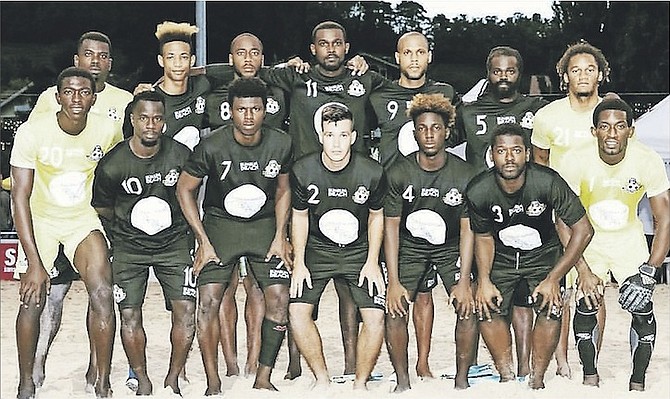 THE Bahamas defeated the United States of America in beach soccer for the first time in the country's history.
The Bahamas beach soccer team scored the historic win against the No.15 ranked USA men's national team in a nail-biting match in Spiez, Switzerland, on Saturday.
It was a close match up, but The Bahamas came out on top, defeating the soccer powerhouse by one point with a final score of 5-4.
"This is a great day in Bahamian football history," said Fred Lunn, general secretary of the Bahamas Football Association (BFA).
"This is a victory not only for the team, but more importantly, for the country. We are ecstatic about this win, but we won't get comfortable. Our focus goes back to preparing for next year's World Cup where we plan to make the country proud on home sand."
A Bahamian contingent attended the game and cheered on Team Bahamas, including Rhoda Jackson, Bahamas Ambassador to Switzerland. "Words can't describe how we're feeling. USA is a strong competitor and we've played against them several times but were unsuccessful in defeating them. They were ranked significantly higher than us, so this win shows that Team Bahamas is on the right track," said Gavin Christie, the team captain.
Lesley St Jean was the game's highest scorer, netting four of the five goals. Ehren Hanna scored the first goal for The Bahamas in period two.
"All of our hard work has finally paid off. We've been able to kick it up a few notches and we were finally able to pull off a victory against the US," Hanna said.
The squad is in Europe for a six-week training camp and a series of tournaments in preparation for the 2017 FIFA Beach Soccer World Cup. Sixteen countries will compete in the prestigious 11-day tournament slated for April 27 to May 7 in Nassau.
With its first ever win against the US, Team Bahamas is gaining confidence heading into next year's World Cup.
"It was an outstanding game and a fantastic result for these players. The team has been training twice a day for the last six weeks and competing against various national and club teams every weekend. They're getting stronger, they're getting faster, and they're getting ready to compete on the world stage," said Jason McDowall, vice president of BFA Beach Soccer.
While in Europe, Team Bahamas also secured victories against Estonia and No.5 ranked beach soccer powerhouse Tahiti.
Members of the team include Valin Bodie, Lamar Cancino, Gavin Christie, Dwight Darling, Christopher Davis, Torin Ferguson, Dwayne Forbes, Ehren Hanna, Jared Higgs, Nesley Jean, Timothy Munnings, Lesley St. Fleur and Kyle Williams.
The team is scheduled to return to Nassau on Wednesday.