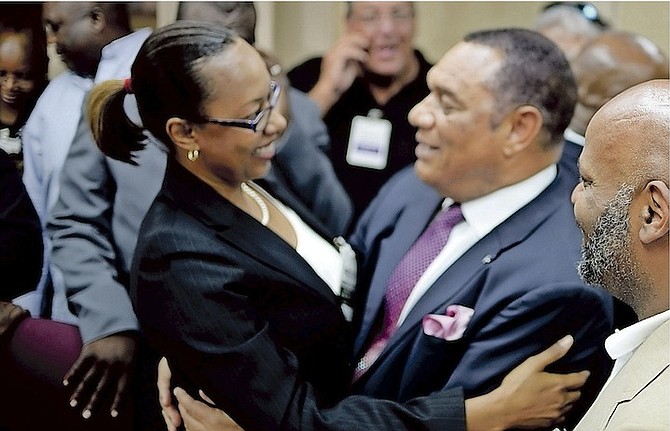 By LAMECH JOHNSON
Tribune Staff Reporter
ljohnson@tribunemedia.net
CONSTRUCTION at the stalled Baha Mar resort is expected to resume in September in a move to have the $3.5 billion resort project open no later than the end of winter in 2017, Prime Minister Perry Christie announced last night (Prime Minister's statement in full HERE).
While remaining tight-lipped on which "world-class hotel and casino operator" would purchase the Cable Beach development and the concessions granted in exchange for arriving at a deal, Mr Christie confirmed speculation during a nationally televised address that an agreement had been reached between the government and the Export-Import (EXIM) Bank of China.
Under the terms of the agreement, Bahamian contractors still owed money will receive a significant portion, if not all, of their claims, while thousands of former Baha Mar employees will receive outstanding amounts due to them.
Mr Christie said the deal had been had been approved by Justice Ian Winder of the Supreme Court just two hours prior, around 5pm.
He even likened the efforts to conclude the deal to Shaunae Miller's dramatic dive in the women's 400m race at the Rio Olympic Games to win the gold medal for the Bahamas.
"This agreement represents a signal achievement for the Bahamas and a milestone in the troubled history of Baha Mar," Mr Christie said from the Cabinet room, flanked by members of his government and others.
"For some 20 months, I have been continuously focused, day and night, on efforts to find a solution for the completion of the Baha Mar project. Throughout this period, the government has had three key objectives: firstly to ensure that construction at Baha Mar would be resumed as quickly as possible.
"Secondly, to make every effort to ensure that the casino and casino hotel, the convention centre and its hotel, and the golf course would open before the end of the 2016-2017 winter season and thirdly to ensure that payment of claims to Bahamian creditors and contractors, who previously had little or no prospect of recovering anything from Baha Mar.
Baha mar's troubled timetable
November 2005 - Baha Mar officially announced by Sarkis Izmirlian in partnership with Harrah's and Starwood Hotels & Resorts Worldwide. Groundbreaking set for 2007 and opening 2010.
March 2008 - Harrah's pulls out of the resort development.
March 2009 - Baha Mar signs formal agreement with China State Construction Engineering Corporation with China Construction America (CCA) as builders.
February 2011 - Construction crews break ground, work funded by China Export Import Bank $2.45bn loan.
July 2014 - Baha Mar officials confirm opening date will not be met.
December 2014 - Baha Mar misses scheduled opening.
March 2015 - Suggested 'soft' opening date missed.
May 2015 - Another opening date missed, no further dates announced.
June 2015 - Developer Sarkis Izmirlian files for Chapter 11 bankruptcy in the United States.
July 2015 - Government moves to seize and liquidate Baha Mar, Supreme Court refuses to recognise US court bankruptcy proceedings.
August 2015 - Baha Mar files Chapter 11 reorganisation plan removing CCA from the project.
September 2015 - Joint provisional liquidators appointed by Supreme Court
October 2015 - More than 2,000 employees laid off, receivers appointed
April 2016 - Prime Minister Perry Christie holds bilateral meetings with high ranking Chinese officials.
August 2016 - Prime Minister announces re-mobilisation of the resort, work to start in September.
"We have achieved all of these objectives," Mr Christie stressed.
He said that under the heads of terms signed between the government and the EXIM Bank, "remobilisation at Baha Mar will commence immediately."
"Construction at the site is expected to resume within a few weeks, during the month of September," he added. "The bank has committed to fund all remaining construction costs to complete the project. China Construction (America) will finish the works, and will resolve outstanding claims with its suppliers and sub-contractors."
The opening of the 2,000 plus room resort was scheduled for December 2014, but was delayed to March 2015 and again to May 2015.
Baha Mar's developer Sarkis Izmirlian filed for bankruptcy protection in the United States on June 29, 2015; however the Supreme Court rejected the resort's application for the matter to be recognised here.
A US judge later threw out the bankruptcy application for Baha Mar's Bahamian companies.
Joint provisional liquidators (JPLs) were appointed in September 2015 to protect and prevent the depletion of the resort's assets before an expected full winding-up of the resort took place.
However, the resort was placed into receivership last October.
In May, court appointed receiver Raymond Winder told reporters after a closed hearing that there was a "good expectation" the shuttered resort would be sold before the matter returned to court at the end of September.
Mr Christie contended that going the route of Chapter 11 proceedings in Delaware would have left Bahamian contractors with the prospects of being paid little to nothing.
"Under this agreement made today, funds will be made available to enable them to receive a significant part and possibly all of the value of their claims," Mr Christie said.
In addition to re-engaging prior contracted companies, the deal will see that the government agencies and utility companies like Bahamas Power and Light "receive payment for some of their outstanding claims against the Baha Mar companies."
As for the more than 2,000 employees dismissed last October, the prime minister said they can expect to receive "unpaid salaries, severance pay, accrued vacation pay, and notice payments due to termination."
They can also expect to be repaid sums deducted from their salaries and pension contributions.
Commercial groups and retail companies will be "permitted" to hold onto their leases and concessions, according to Mr Christie.
"As it has been done with all major investments, the government will extend appropriate concessions to facilitate the construction and promote the successful future operation of the resort. The completed project will then be sold to a qualified world-class operator," the prime minister stressed.
Mr Christie also used the press conference to dismiss critics on the transparency of the negotiations, noting "the government thought it wise not to offer a running commentary on the discussions (and) not to say anything that might put the future of the project in jeopardy."
Hailing the "Herculean effort" by the many parties involved in the negotiation, Mr Christie said he was "enormously grateful to and proud of everyone, who in these last days, did what it took, to use the same, dive across the finish line."
Mr Christie and his Cabinet colleagues did not take questions from the media for further details on a prospective Baha Mar buyer, possible concessions granted to the EXIM Bank, and what the new deal means for the developer's $800 million equity stake.
However, he said the public can expect the government to "make publicly available all of the key items of information so that you can read for yourselves what the facts are."
"The difficulties of a project this size has hit our economy hard," Mr Christie said. "But we will recover. Over the coming months, economic opportunities will be felt in more and more homes. The government will redouble its efforts to continue the programme of modernisations that we began four years ago."
"This is a good day for the Bahamas. This is a great day for Bahamians," Mr Christie concluded.
Thankful
Interested stakeholders in the Baha Mar matter were present at the press conference to express their feelings on the deal.
Denise Abrahamsen, representative of former Baha Mar employees, said she was "truly thankful" for the prime minister's commitment to seeing the project's completion.
"Your team has been so professional and so welcoming and the agencies that were there to assist us, the National Insurance Board, and the Social Services Department, a team of professional people who've extended themselves above and beyond to assist the team here. I thank you, sir, I thank you for your dedication."
Godfrey Forbes, immediate past-president of the Bahamian Contractors Association, said the news marked "a good day indeed for the Bahamas especially for contractors."
He added: "When we heard about Baha Mar, I know our former prime minister he got a lot of flack about 'you need to go ahead and make this project happen, it has to go because the economy needs this project', then it got to the point whereby we got into a major roadblock and everybody was like 'wow what happened here?'
"Now you come on the scene and you did some magic. I don't know what kind of shuffling you were doing but it worked and I must say on behalf of our president, and our members, we are indeed thankful because we know that in the construction industry, it is the one single industry whereby we know that people, or our workers, are considered the most hard-working workers anywhere."
Peter Whitehead, owner of Auspec Construction and Gunite Pools, commended contractors for keeping calm during the debacle and thanked the prime minister for coming through.
"I think that all of us realise and understand that negotiating this contract, what you have negotiated, probably is almost impossible to negotiate," Mr Whitehead said.
"And it's been done. So if you took the statistics on it, it's impossible to do it but it was done and there's always that saying that when you're across the table, and the person who blinks first is screwed and in this case, you didn't blink. And we are so grateful that you didn't blink."
In early April, Mr Izmirlian asked the president of the EXIM Bank to accept his offer to complete and open the stalled resort, promising to rehire Bahamian employees while ensuring that the bank will not have to take a discount on its debt. In other words it would recover its debt in full.
Mr Izmirlian's offer would also ensure that unsecured creditors, many who are "suffering in the Bahamas," would be paid, he wrote.
The letter was a follow-up to the offer he made to the bank on January 11, to which he said he received no response.