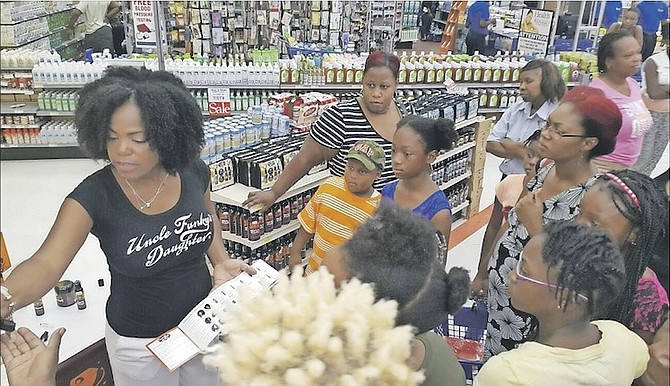 By ALESHA CADET
Tribune Features
Reporter
acadet@tribunemedia.net
Scores of Bahamian naturalistas gathered last Saturday to attend a special hair and wellness expo tailored especially to their needs.
The "Naturals in the City" organisation hosted the event together with Solomon's Super Centre.
On hand to assist those in attendance with tips and tricks was president of the international brand Uncle Funky's Daughter (UFD), Renee Morris.
"Uncle Funky's Daughter has partnered exclusively with Solomon's because of it's strong commitment to the Bahamian community. It's important to me that our retail partners share similar values as our brand," Ms Morris told Tribune Woman.
She applauded Solomon's back-to-school campaign and said last weekend's free trade show helped parents ensure that their children were well equipped for the new academic year.
It also made for the perfect launchpad for the Uncle Funky's Daughter brand into the Bahamas, she said.
Ms Morris' 20-year career has spanned several industries, but the theme has always been helping people solve their problems. It is her passion, she said.
Having been an avid "Funky Junky" since the launch of Uncle Funky's Daughter in 2009 in the United States, Ms Morris purchased the company in 2014 when it was put up for sale.
She said she knew the brand had a lot of untapped potential, given that magazines like Essence and Ebony constantly wrote about it, but the level of distribution was not where it should have been.
After acquiring the company, she upgraded the packaging and the brand's image while keeping all the original formulas for the products.
"We have been growing like gangbusters since, with features on Essence.com, inclusion in the Essence Beauty Box, OnyxBox, and an upcoming collaboration with curlBox," said Ms Morris.
A native of Little Rock, Arkansas, Ms Morris started off as a consultant to multi-billion dollar companies. She took what she learned during that time to grow a successful business focused on helping people of colour achieve their best selves naturally.
Uncle Funky's Daughter now offers all-natural hair products, serving the needs of the curly haired community with designer shampoos, conditioners, moisturisers, curl definers and stylers which define and enhance a person's curl pattern. The company's vegan-friendly products are free of ingredients which are harsh on the hair, such as parabens, sulfates, phthalates, mineral oils and synthetic dyes.
"The best thing about what I do every day is my ability to help women along their natural hair journey. It's still not always easy for women to embrace their natural curls. Some of that has to do with not knowing how to manage our hair in its natural state. I love spending time one-on-one with women, helping them understand what types of products work best for their hair. (The Bahamas) is such a beautiful country in every way – from the people to the food to the culture. The women and children were amazing," said Ms Morris.
During Saturday's hair and wellness expo, she said, there were many women looking for solutions to help make their natural hair routine easier or to feel confident in wearing their own hair instead of a protective style.
"I've helped start the conversation for the women who attended the Solomon's event. We're working with Solomon's to continue the dialogue and support. I'm looking forward to coming back," said Ms Morris.