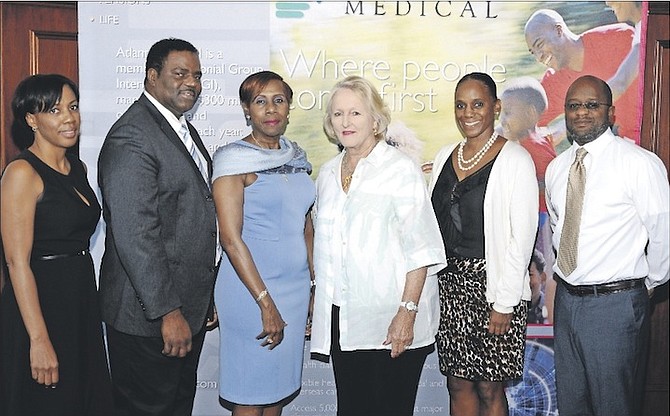 MORE than 1,400 persons participated in Atlantic Medical's annual 'fun run walk' that was held in April. For the past 18 years, Atlantic Medical is still committed in giving back to the community.

Atlantic Medical presented the Cancer Society and The Diabetic Association of The Bahamas with a shared donation of almost $40,000.
Executive Vice President Lynda Gibson expressed her gratitude to both organisations for the work they have done.
"As a corporate citizen, Atlantic Medical took the charge to give back some 18 years ago with its first walk. We saw the importance of not only giving money but involving the community so they were also aware of the fact that healthy lifestyles help to make a healthier Bahamas," she said.
Susan K Roberts, assistant treasurer and founder of The Cancer Society, was elated to receive the generous donation and expressed the importance of continuing the fight against cancer.
"When people are faced with cancer in their families, they often have to be determined to make it through and to still have hope," Ms Roberts said. "It is encouraging when you see the strength of family members while they carry on despite the challenges, this gives others hope. Contributions from corporate citizens like Atlantic Medical helps to make a difference, therefore we are so grateful for the donation."
Director General of The Diabetic Association Eugene Thurston also expressed thanks to Atlantic Medical for their years of support through the event.
He was humbled by the donation.
"Atlantic Medical had done more for the Diabetic Association than most as diabetes is so prevalent in the Bahamas it is important for them to be able to assist. The association now has more professionals who are helping to bring awareness before it's too late for individuals."
Atlantic Medical has hosted the event annually in April for the past 18 years and the objective is to bring the community together for a fun time while raising funds for two very important charities.