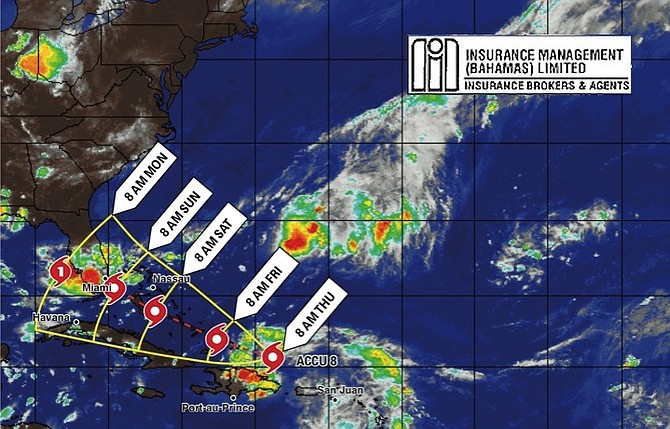 By SANCHESKA BROWN
Trbune Staff Reporter
sbrown@tribunemedia.net
A STRONG tropical wave is expected to dump three to four inches of rain and cause severe flooding as it passes over the Bahamas beginning today, Deputy Director of the Department of Meteorology Basil Dean warned yesterday.
Mr Dean told The Tribune the system is expected to strengthen into a tropical depression or tropical storm as it passes over the southeast Bahamas on Friday, meaning residents in the central and northwest Bahamas, including New Providence, could possibly experience tropical storm conditions as early as Saturday.
However, Mr Dean said regardless of tropical cyclone formation, gusty winds and heavy rain "are highly" likely to accompany this system beginning Thursday morning, and could result in severe flooding over the Turks and Caicos Islands and the southeast Bahamas which includes Long Island, Ragged Island, Acklins, Crooked Island, Mayaguana and Inagua.
"The system is expected to move right over us starting Thursday, that's when the rain will come. By Friday the core of the system will be over the southeast Bahamas and it is very possible it will intensify," Mr Dean said.
"So we are asking residents to prepare and implement precautionary measures. The reason I am saying this is because it hasn't reached Puerto Rico or Hispaniola yet which could have a dampening effect and then it could weaken. That will let us know which state the system will be in when it passes over us. We want to give people a heads up, it is possible once it reaches our water is could dissipate but it is also possible it will strengthen."
Mr Dean said the current environment is conducive for the storm to develop and warned residents in New Providence and "everything to the north of it" to prepare for at least 35mph winds.
"What we know is that heavy rain and wind will come no matter what, which will result in flooding," he said.
"Hence, residents on the mentioned islands should have completed all seasonal precautions and be prepared to take quick and necessary actions to minimise possible flood damage and residents in the central and northwest Bahamas should monitor the system closely and be prepared to implement precautionary measures."
National Emergency Management Agency (NEMA) Director Captain Stephen Russell called on Bahamians to monitor the movement of all of the active storm systems, and to "finalise plans for the remainder of the hurricane season in order to safeguard lives and protect properties."
Capt Russell said in a statement on Tuesday that people should remain vigilant, particularly throughout September and October, which he said is "peak season for storms." He also urged residents to check weather forecasts regularly for alerts and to ensure that their homes meet building codes to withstand hurricanes and that they have storm shutters.
If the wave becomes a storm, it will be the eighth of the year as the Atlantic hurricane season moves into peak months. The storm will be named Hermine.