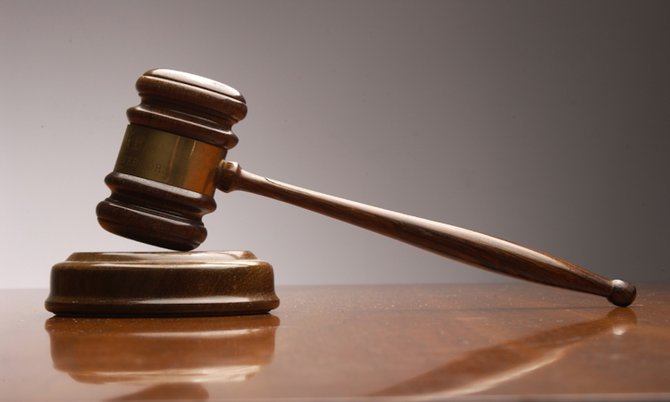 By LAMECH JOHNSON
Tribune Staff Reporter
ljohnson@tribunemedia.net
TWO teens sought forgiveness yesterday from the parents of Adonai Wilson moments after they admitted involvement in a scuffle that led to the 16-year-old's stabbing death.
The pair, 17 and 15, appeared before Justice Bernard Turner for the continuation of their trial alongside a third accused - also 18 - related to Wilson's December 9, 2015 murder.
However when the matter was called, the lawyers for the younger teens, Ian Cargill and Roberto Reckley, asked the judge if the charges could be re-read to their clients.
The 17-year-old pleaded not guilty to murder but admitted guilt to the lesser charge of manslaughter. His 15-year-old co-accused also pleaded not guilty to murder while admitting to attempted causing harm.
The 17-year-old received a sentence of nine years after the judge took into account his time spent on remand and the fact that he pleaded guilty to manslaughter.
The 15-year-old was given a sentence of six months to be served at the Simpson Penn Centre for Boys.
Before their sentences were handed down, Justice Turner asked prosecutor Kristan Stubbs if the Crown would accept the pleas, which she did.
According to initial reports the victim was stabbed multiple times during an argument with several other students shortly after school was dismissed early because of exams. He died in hospital a short time later.
The incident took place around 2pm on Prince Charles Drive and a graphic cell phone video of the incident was spread on social media.
The prosecution alleged that the 17-year-old entered a fight between Wilson and the 18-year-old accused and stabbed Wilson. The 15-year-old, who had no weapon, allegedly tried to involve himself in the fight as well.
Justice Turner asked both boys if they agreed with the claims alleged by the prosecution.
They said "yes" and the judge accepted their "unequivocal guilty pleas" and formally convicted them accordingly.
Justice Turner asked them if there was anything they wanted to say anything before a sentence was passed on them.
Their lawyers indicated that they wished to say something to Wilson's family.
The 17-year-old turned around in the prisoner's dock to address the family and his parents seated at the back of court and said: "I only want you to know that I didn't mean to do it and I only ask that you forgive me and accept my apology."
The 15-year-old expressed a similar apology and was almost in tears.
"I apologise for the death of Adonai Wilson. I ask that you forgive me and accept my apology," the boy said.
Mr Cargill told the judge that the mother of his 17-year-old client feels burdened by her insistence for her son to sit the final exams that semester even though he was set to move to the United States the following month to finish high school as a part of a fresh start from an environment where he lost his uncle and brother to gun violence.
"He's an emotional wreck hence his wanting to leave this place. When he saw his cousin being beat up, he reacted without thinking. This has taken a heavy toll," Mr Cargill added.
"He's a very soft spoken and mannerly young man. His mother and father have always come to court to support him. And he's had no prior convictions or other pending matters before the court. His last average in school was almost a C+ and he was never suspended or expelled from school," the lawyer stressed.
Meanwhile Mr Reckley, in his plea in mitigation, stressed to the judge the "tender age" of his 15-year-old client whom he said had "saved the court some time and numerous witnesses from having to testify about aspects of what transpired."
"This is so uncharacteristic of someone of an impeccable record," Mr Reckley added.
He said it was unfortunate that another young member of society was lost and highlighted that his client has taken responsibility for his part.
"He's a prime candidate for rehabilitation and he's certainly remorseful," the court was told.
Justice Turner addressed the 17 year old first.
"You were born within a few months before the dawn of the new millennium," the judge said.
"We are now just 16 years into the new millennium and there were hopes and aspirations all members of society had for the shaping of society we wanted for our young people."
"Your actions have led to the loss of one of those young men, which through no action of this court or yourself, can bring back," Justice Turner noted.
The judge acknowledged the apology made to the family, noting that it "may be a slight comfort for you and a cold comfort to them."
"Your counsel was eloquent in expressing the impact this had on you and the deferment of your dreams. His reference to your academics places you above the ordinary students in society yet here you are to be sentenced for manslaughter for the killing of a child, a young person," the court added.
In passing his sentence, the judge remarked that "no happy end can come from this matter."
"Looking at the (case) authorities, this type of offence is to routinely carry in a range of 18 years. The court however shall have regard to your age and the fact that you have pleaded guilty, not at the earliest opportunity but guilty nonetheless."
"So from an 18-year sentence, three years is deducted for your age and another third (five years) from the remaining 15 for pleading guilty. The court is also mindful that you spent essentially a calendar year sentence in prison of eight months. I'd also be required to deduct that and that brings us to a sentence of nine years," the judge said.
"You are 17 and you will be out, if you maintain good behaviour, nine years may effectively be six years. You'll be a young man still when you come out. You will have a chance again. Mr Adonai Wilson's life is at an end."
"Take advantage of every opportunity at the prison. You will have long days ahead of you to consider the loss of the young man's life," the judge stressed.
The sentence runs from the date of conviction.
As for the 15-year-old, the judge acknowledged his remorse, age and early plea of guilt.
He also noted that the boy had been on remand for nearly four months at the prison before his release on bail.
The judge imposed a sentence of six months for attempted causing harm. That sentence, however, will be served at the Simpson Penn Centre for Boys.
The judge further ordered that upon his release from that institution, the teen be placed on probation until his 21st birthday.
The trial, meanwhile, continues with the 18-year-old who maintains his innocence of the murder charge laid against him.
He is represented by Murrio Ducille.