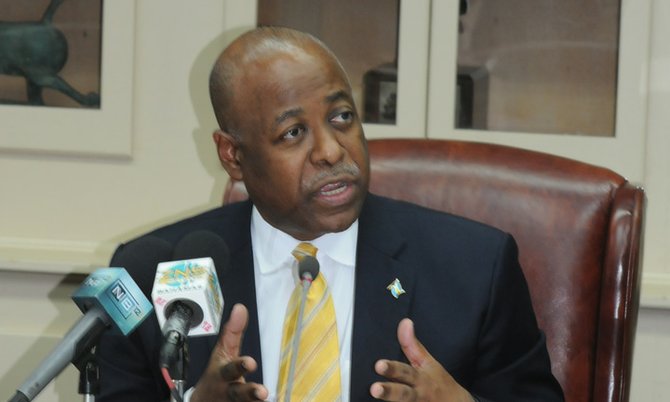 By AVA TURNQUEST
Tribune Chief Reporter
aturnquest@tribunemedia.net
TOURISM Minister Obie Wilchcombe confirmed yesterday that the government spent "much less" on this year's Bahamas Junkanoo Carnival but declined to reveal whether the second instalment of the annual festival managed to 'break even'.
Mr Wilchcombe pushed back against concerns that the government was trying to bury the event's economic impact report, which was completed last month, but has not been released.
The Bahamas National Festival Commission (BNFC) has already briefed Prime Minister Perry Christie on the report, according to Mr Wilchcombe, who explained that officials were still putting the finishing touches on their presentation to the media.
"We can't bury a report," he said, "it will not be buried. It did much better than last year in terms of the production - we maintained the same high quality production.
"We spent much less than we did last year. I'm not going to get into all of that because it should really come from the commission and it would be against protocol."
Mr Wilchcombe added: "They want to ensure that all the t's are crossed and i's dotted. They have briefed the prime minister, myself and the minister responsible for sports. They intend to make a formal presentation to the media, and it's very detailed and so they want to make sure all questions can be answered because there was so much involved, all the entertainers, logistics.
"It is absolutely not being buried."
Bahamas Junkanoo Carnival was held in Nassau from May 5-7, and in Grand Bahama from April 15-16. Many people, including members of the Official Opposition, have questioned why the government has yet to produce figures on the festival's financial performance and economic impact.
On July 25, BNFC Chairman Paul Major confirmed to Tribune Business that he was preparing to present the completed report to the government that same day.
"The report is finished, I can report that much," said Mr Major at the time.
"I'm presenting my report to the principals today. I can't say what happens after that, but that will be done today."
Mr Wilchcombe, who was asked to comment at that time, said: "With respect to carnival, they've finished those numbers. I don't know why they haven't been released.
"The commission has completed its work. I think they are meeting with the prime minister, and then they can release it because his ministry is responsible for that."
Last year, the BNFC released its report on July 28 - just under three months since the Nassau festival closed on May 9.
The government spent $11.3 million - $2.3 million over budget - on the inaugural festival, which attracted about 115,000 spectators or participants, employed 7,208 people and benefited 880 small and medium enterprises.
It 'gained' $8.3 million in combined direct and tax revenues, with the latter providing $6.7 million of that sum. The direct revenue, which totalled $1.6 million, largely came from ticket sales and cash sponsorships, organisers said.
The BNFC faced strong criticism last year for going over-budget and a lack of proper planning, and promised a more "focused" marketing approach for this year's festival. The BNFC previously said funding for this year's festival would be roughly $7 million.
The BNFC has predicted that Bahamas Junkanoo Carnival will generate a profit by its third year, with the economic impact increasing 20.5 per cent over the inaugural 2015 event.