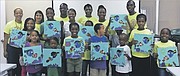 By JEFFARAH GIBSON
Tribune Features Writer 
jgibson@tribunemeda.net 
IN an effort to raise awareness of cancer and sickle cell disease in children, the Cancer Society of the Bahamas is joining forces with 100 Jamz to host a special fun-filled day for young adults and kids battling these illnesses. 
The event, that is intended to be "memorable and exceptionally fun", will feature a DJ workshop and an educational session at Radio House on Shirley Street on this Saturday beginning at 12noon. 
Children who are part of the Freedom Kids programme will participate in arts and crafts activities as well as get an opportunity to learn and exercise their disc jockey skills. 
 "We wanted to do something special that would be fun for the kids and bring awareness. There will be about 12 children with their parents. They will also be doing arts and crafts and have lunch in our lobby," said radio personality J J McKenzie.
 "Xtra Large, DJ Tank, DJ Fines and Xcitement – who's coming off vacation to help out – have volunteered to host the DJ workshop. We will break the kids up into groups. While one group is doing the DJ workshop, the other groups will be doing arts and crafts."
Entertainers like Bahamian Tre, Fadda Fredand Spicy Dee will also be in on hand to make sure the event is as fun as possible for the kids. 
"It is important that we use this as an opportunity to bring awareness about childhood cancer in the Bahamas. But our main focus is to make this a memorable and exceptionally fun day for them," said Ms McKenzie. 
Freedom Kids is a social, support and education programme for kids with cancer or sickle cell disease under the Cancer Society of the Bahamas and sponsored by Lyford Cay Foundation. 
Melissa Major, the programme's coordinator, told Tribune Health that the aim of Freedom Kids is to provide ongoing and practical hands-on support for the children while offering support to their parents at the same time.
"Every year the Cancer Society hosts a Christmas party for the kids and this event is an extension of that. We thought it necessary to do it," said Ms Major.
"We have a register of over 100 kids in the programme and on any given time we can have between 12 to 30 kids that come out on a monthly basis along with their parents. 
"But the workshop in conjunction with 100 Jamz is kind of two-fold. We allow the kids to come here and be kids...With them having ongoing hospital visits, and always being told that they should not eat this or that, or being told that they cannot do certain things, we just wanted them to get together and have fun," she told Tribune Health. 
And the fun day also has another purpose.
"We also take the opportunity to educate them on healthy lifestyle choices, the importance of physical activity and we talk to their parents about medical management and what it is to have a child with a long-term illness. There is also a counselling and support initiative that we provide for parents as well," said Ms Major.
For more information or to donate to the programme, contact the Cancer Society of the Bahamas at 323-4441.