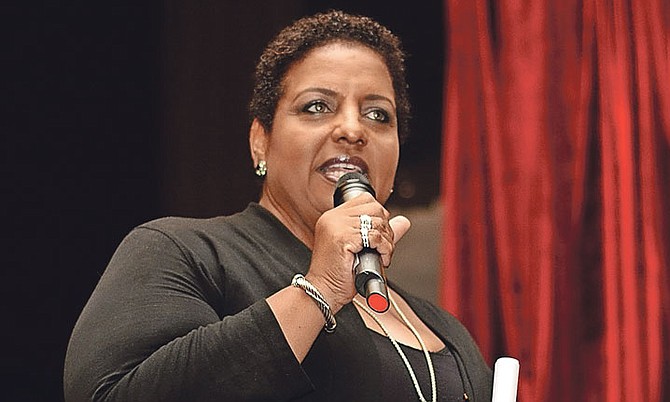 Reader poll
Yes, I'm more positive about Baha Mar's future. 12%
No, I am not more positive about Baha Mar's future. 88%
258 total votes.
By KHRISNA VIRGIL
Deputy Chief Reporter
kvirgil@tribunemedia.net
LONG Island MP Loretta Butler-Turner yesterday criticised the formation of a committee to oversee payments to Baha Mar creditors, insisting that this was evidence the Christie administration lacked the ability to plan well, instead relying on "ad hoc" governance.
The Free National Movement's shadow minister of labour and social development said given Prime Minister Perry Christie's "insatiable propensity" for creating committees, which often times hardly ever produced results, this raised questions of whether he was legitimately pursuing a resolution to Baha Mar or creating yet another deflection from the recent Moody's downgrade.
She told The Tribune that there were also concerns about the appointment of China Construction America (CCA) executive Tiger Wu to the committee. The MP said she found this "reprehensible" as CCA, which has earned a reputation of allegedly producing sub-par work, is now tasked with reviewing the craftsmanship of Bahamian contractors.
Her harsh critique of this committee follows reports in The Nassau Guardian yesterday that former Minister of State for Finance James Smith said the first time he learned of his appointment to the committee was on Sunday, the day the government made the announcement. At the time he said he had not spoken to anyone from the government officially about his appointment.
"In this instance, Mr Christie has gone ahead and named a committee," Mrs Butler-Turner said, "and one of the principles of the committee did not even know that he was on the committee.
"I find that to be absolutely incredible given the fact that Mr Christie says that this is something that they have been working on assiduously and this is the best that he can do? To actually name persons to a committee and they have not even been informed that they are on the committee?
"It just speaks to the whole issue of Mr Christie's ad hoc approach to governance and lack of planning. So it brings the question for me of whether in fact Mr Christie is legitimately pursuing a resolution to Baha Mar or whether this is just a further deflection from the bad news with regard to our downgrade by Moody's."
She added: "On top of that Mr Christie has also named people from CCA. That raised very big questions for me because CCA to the best of my knowledge are the builders that have already given us sub-par work. So who are they to actually determine the level of craftsmanship and work that has been done by the Bahamian contractors?
"I think that question needs to be answered. Are we in fact going to allow Mr Christie to advocate his responsibility to the Bahamian people by allowing CCA who obviously from all suggestions produced this sub-par work? Are we going to allow them to determine what the value is of the Bahamian work? I find that reprehensible."
On Sunday, BMD Holdings – Baha Mar developer Sarkis Izmirlian's company - criticised the appointment of Mr Wu to the committee with oversight for the payouts, alleging that he has "engaged in documented questionable behaviour."
The statement also added that it was CCA that created the situation, which led to Baha Mar's troubles. CCA is Baha Mar's general contractor.
"CCA has proven itself to be a serial deceiver of the prime minister of the Bahamas and the Bahamian people. The unsecured creditors of Baha Mar have every reason to be wary and concerned about the credibility of this committee and its agenda," BMD Holdings said.
Earlier on Sunday, the government announced that Mr Smith; Grant Lyon, liquidation claims advisor to the government; Yanping Mo, representative of the Export-Import Bank of China; Norbert Chan, representative of court appointed receiver Deloitte & Touche and Mr Wu had been appointed to a committee to administer the claims of Bahamian and other creditors of the Baha Mar group of companies.
The government said it hoped that Bahamian employee claims would be settled no later than September 30 and that all other claims will be dealt with on or before December 31.