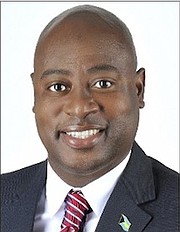 MORE than a month after he announced that he was suspending his election campaign in the Bain and Grants Town constituency, Free National Movement member Leonard Sands announced that he has officially ended his candidacy.
"There are times in life when we have to evaluate what is really most important at that time," Mr Sands posted on his Facebook page.
"As I arrive at this place in my political life many will have much to say about my decision and many will be disappointed. I must, however, remind those persons that many are the plans of man, but it is the Lord's will that shall prevail."
"My fellow Bahamians, I have decided to officially end my candidacy for the Bain and Grants Town Constituency effective August 30, 2016. While there are significant personal reasons that have led me to this decision there are other reasons that are not so personal that contribute to this decision as well.
"Finally, as I end my leg of the race I am certain that there will be another to take my place in the coming months and to that person I offer my unwavering support and encouragement as the FNM seek to become the next government of the Commonwealth of the Bahamas."
In July, Mr Sands told The Tribune that the continued "infighting" within the FNM as well as "personal considerations" forced him to suspend his campaign. His comments came weeks before the FNM's contentious convention.
At the time, Mr Sands denied rumours that he suspended his campaign because of FNM Leader Dr Hubert Minnis' leadership style.
That same month, a well-placed source in the FNM, who did not want to be named, told The Tribune that Mr Sands allegedly had problems financing his campaign, which was part of the reason for his decision. The source claimed Mr Sands had been promised campaign funding from the party.
Last September, the FNM announced that Mr Sands, an architect, had joined the party.
In a press release at the time, Mr Sands said: "I am proud to join this organisation because I am convinced that the Free National Movement is the only party that is capable of moving the Bahamian people from promise to possession."