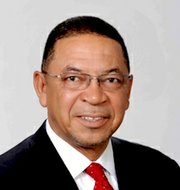 By AVA TURNQUEST
Tribune Chief Reporter
aturnquest@tribunmedia.net
POINTING to the "vague" language in the party's constitution, St Anne's MP Hubert Chipman yesterday said he hoped the disciplinary proceedings launched by the Free National Movement against him and his parliamentary colleagues would not become a "kangaroo court".
Mr Chipman insisted that he and the "rebel" FNM MPs were not in breach of the party's constitution when they moved to oust Dr Hubert Minnis as leader of the Official Opposition in the House of Assembly last Wednesday.
Meanwhile, fellow "rebel" MP Dr Andre Rollins insisted that last week's shake-up was the catalyst for a revitalised electorate.
The Tribune spoke to both men on the sidelines of Long Island MP Loretta Butler-Turner's historic appointment as the first woman to lead the Official Opposition.
Dr Rollins said: "There is absolutely no doubt about it that people are now far more interested in the political future of this country than they were before Wednesday of last week. People had grown so despondent towards politics in this country because, quite frankly, it was stale.
"There was no real message coming from the opposition, no policies being clearly articulated that all of the members of the opposition could speak to. So it appeared as if we really didn't know what we were doing."
The petition to remove Dr Minnis was signed by Mrs Butler-Turner, Central Grand Bahama MP Neko Grant, St Anne's MP Hubert Chipman, North Eleuthera MP Theo Neilly, Central and South Abaco MP Edison Key, Montagu MP Richard Lightbourn and Fort Charlotte MP Dr Andre Rollins. All of the signatories have declared that they will not quit the party, and as such, have been accused of bringing the party into "disrepute, division, rancour and dishonour."
It's a case that many expect will languish on at the party's tribunal, and ultimately in the courts.
"I'd hate to see it go all the way to court," Mr Chipman said, "because I think really the matter is a very simple matter. According to the FNM constitution, Article 53, it's kind of vague.
"When you're talking about disrepute, how did we bring the party into disrepute? We can go back and name quite a number a lot of things that has been, as far as the leader is concerned, (bringing) disrepute," he said.
Mr Chipman added: "I would think about disrepute as a criminal matter, bankruptcy, or something like that. I don't have no charges against me. As far as I'm aware there is no precedent for that. I think if anyone reads and interprets article 53 of the constitution of the FNM there is leeway.
"I would hate to see it be a kangaroo court, but if it is we don't control that."
The parliamentarians have seven days from receipt of a letter from the party outlining the charges against them to give a written response to the Executive Committee of the FNM, attempting to exculpate themselves.
Both Mr Key and Dr Rollins have publicly called for Dr Minnis to step down from the top post as the best possible solution for the party, and the country.
When asked if he adopted that position, Mr Chipman said: "I think we have gone through that scenario on a number of occasions. I think there have been ultimatums in the recent past, even at the convention, we were granted the convention.
"There have been a number of things that have transpired as far as, look here what are we doing, where are we going, how are we going to get there, but like my grandmother always said, 'all can't be wrong and you're right.'"
For his part, Dr Rollins said: "I don't believe six months out from an election you can honestly say that you are performing properly or effectively as the government in waiting, if your standard bearers can't tell you what they are going to be bringing to the country if elected.
"That's problematic," he said.
Responding to questions about his tenuous past with Mrs Butler-Turner, who infamously slapped him in the House of Assembly in 2013, Dr Rollins said: "I'm just here today as a spectator to history, I'm proud to have played some small role in allowing there to be a true expression of the belief that men and women are capable of being leaders in our country.
"We got a lot of (voter) apathy, and forget about my personal relationship with Loretta Butler-Turner. It has nothing to do, as far as I'm concerned now, with whether or not I consider Loretta Butler-Turner one of my close friends, we're not close friends but we're coming together to do what we believe is in the country's best interest and that is what all of us as politicians have to do."