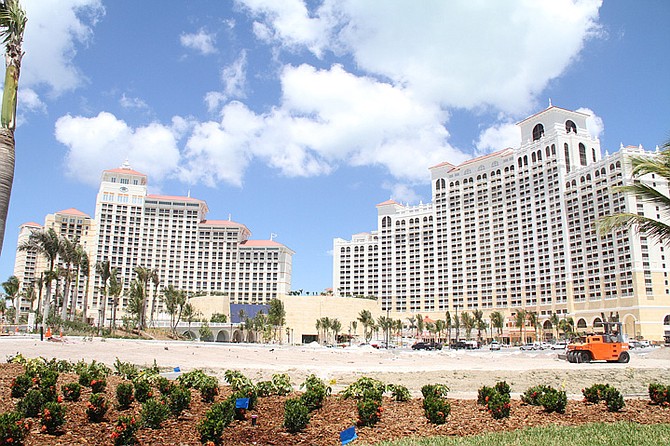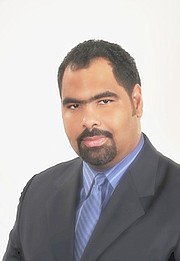 By AVA TURNQUEST
Tribune Chief Reporter
aturnquest@tribunemedia.net
BAHAMAS Chamber of Commerce and Employers Confederation Chairman Gowon Bowe yesterday called for critics anxious for details over the Baha Mar sale to be patient, as a final agreement has not been brokered.
Mr Bowe explained that, notwithstanding the recent announcement by Prime Minister Perry Christie, buyer Chow Tai Fook Enterprises Ltd was still working to finalise the sale with China EXIM Bank.
Further to that point, Mr Bowe added that the Supreme Court would also have to approve the sale before the documents were unsealed.
He said the Chamber, and wider private sector, was optimistic about the progress but will withhold celebrations or judgment until everything is finalised.
"When we say that it has been fast tracked, persons are jumping ahead because they said effectively an agreement has been made.
"Last I understand it was still going through the process. The statements made by political leaders give the impression that all is done but there is still an agreement that still has to be made between CTFE and EXIM.
"Yes, it sounds good from a political promise perspective to say everything is going to be moving ahead," Mr Bowe said. "But that's more of a case of this is what we have agreed in principal and we have to now get it all sorted into details."
Mr Christie announced the official sale of Baha Mar to CTF BM Holdings, a subsidiary of the Hong Kong conglomerate, Chow Tai Fook Enterprises Ltd, in Parliament on Monday.
Mr Christie said Baha Mar is set for a phased opening beginning in April 2017 and a full completion by the fall of next year.
He did not disclose the sale price of Baha Mar, adding that details of the deal are still sealed by the Supreme Court at the request of the Export-Import Bank of China.
The heads of agreement between the government and CTF Holdings, however, will be tabled in Parliament once negotiations are complete, he said.
Mr Bowe noted that xenophobic, anti-Chinese sentiments persisted, and questioned whether the mood would be different if the buyer was a North American conglomerate instead.
He maintained that CTFE was a major, well-known brand with global resort and leisure developments, and as such, its history and track record could be easily scrutinised.
"In reality this is over 18 months in the works," Mr Bowe said, "what is another month going to count? When we see massive persons going back to job site, when we see a ramp up in advertisements, as people get re-engaged with full term employment, that will be the parameters which we will measure success thus far."
Baha Mar Claims Committee Chairman James Smith told The Tribune yesterday that the committee was about 90 per cent completed with its payout mandate, as it approaches the December 31 deadline.
Raising concerns over the pace of the sale, Free National Movement Deputy Leader Peter Turnquest yesterday questioned the extent of due diligence performed by the government. He maintained that Bahamians were still in need of answers.
"We still have questions," Mr Turnquest said, "we need to know how many Chinese are coming to work, particularly in labour. We need to know what type of concessions were given to make it happen, and the background of the buyer. How thorough was that background check, because Mr (Obie) Wilchcombe and Mrs (Allyson) Maynard-Gibson just went to Hong Kong last week. What kind of background check did they do?
"It leads you to the conclusion that this was a done deal. It must have been approved even prior to them going, and the question you have to ask is, who's pushing the deal?"
Meanwhile, former PLP MP and Senator Philip Galanis yesterday said he was happy to learn that the government has made substantial progress on the project.
In previous statements, Mr Galanis echoed the Official Opposition's criticism of the "drip drip" pace of details concerning the remobilisation and future sale of Baha Mar, and added to growing concerns over the apparent rise in Chinese influence.
However, yesterday, Mr Galanis made the distinction that much of public commentary surrounding the beleaguered resort was not factual and politically motivated. He pointed to the connection between the project's original developer Sarkis Izmirlian, and FNM candidate for Montagu Dionisio D'Aguilar, who was a former Baha Mar director. Mr D'Aguilar has claimed that the owners of CTFE were unsuited to invest in the country, and highlighted allegations of its "well-documented connection to organised crime in Asia".
CFTE has since denied those claims.
Yesterday, Mr Galanis said: "The longer the property sits there unoccupied, the more expensive it will be to restore it and the longer it's going to be before it is really productive and makes a contribution to the tourism brand and the GDP. I'm not too concerned at this juncture, whilst the due diligence is being worked out, there are a number of things that had to be kept very close to the chest. The PM agreed to table it and I believe him.
"What you're hearing is sour grapes because he as a former director, has a vested interest in singing for his supper and trying to appease his former chairman. He's not working there anymore but he's being put out. The fact that Baha Mar is not under Mr Izmirlian anymore, he doesn't have any position so I don't play any credence on his comments."
"I believe the government is going to do the right thing, do their due diligence, follow the procedures to international standards and best practices. I don't think it's in anyone's interest to have an undesirable company. We need to wait and allow the process."
He continued: "If there is a problem, given government's tremendous resources and access to Interpol, international financial agencies, all sorts of regulators. It will be able to sift through what is and what is not. It serves no useful purpose whatsoever for people to be making unsubstantiated claims, and they should cease and desist."