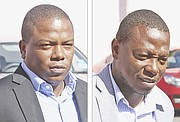 By LAMECH JOHNSON
Tribune Staff Reporter
ljohnson@tribunemedia.net
A JUDGE was told yesterday that his order for an inmate to be taken to hospital for treatment was ignored.
Brothers Dwayne and Samuel Heastie appeared before Senior Justice Stephen Isaacs for a status hearing in their murder case concerning the September 18, 2015 shooting death of Jean Richmond at the Palm Cay gated community.
On September 21, 2015, the Heasties were charged with murder, possession of an unlicensed shotgun and possession of ammunition.
It is alleged that the pair, concerned together, intentionally caused the death of Richmond.
It is further alleged that they were in possession of an unlicensed 12-gauge shotgun and six shotgun shells for the weapon, neither of which were they legally authorised to possess.
Prosecutors contend that the elder sibling encouraged his brother to shoot Richmond after he came to inquire about unpaid wages.
Both men are charged with Richmond's murder, but only Dwayne Heastie's bail application has been approved after applying five times.
He had unsuccessfully appealed a bail refusal by Acting Justice Gregory Hilton to the Court of Appeal in January of this year.
In a hearing in September before Justice Cheryl Grant-Thompson in September, his then-lawyer Krysta Mason-Smith asked the court to consider Heastie's health as he had been admitted to Sandilands Rehabilitation Centre for treatment of depression.
The elder sibling was granted a $75,000 bail. His brother remains in the state's custody, however.
In a case management hearing yesterday, their lawyer Nathan Smith told Senior Justice Isaacs that the court's order for Samuel Heastie to be taken to the Princess Margaret Hospital for treatment had not been complied with.
When the judge asked for more details, Mr Smith clarified that the prison authorities delayed their compliance of taking the younger sibling to PMH and had only done so on December 9.
Upon his arrival, he was told that the "hand clinic" at the hospital only dealt with hand injuries on Mondays before he was taken back to the Department of Correctional Services.
The judge asked if there were any other issues outstanding before the start of the brothers' trial in November 2017.
Mr Smith said that the defence had not yet received crime scene photos taken by police or surveillance footage concerning the day in question.
Senior Justice Isaacs said he could not speak about the crime scene photos but understood that the surveillance footage was in the hands of officials at the gated community.
Another status hearing was set for March 7, 2017.
Senior Justice Isaacs told Mr Smith to inform his court if the accused is continually denied the treatment that was ordered.