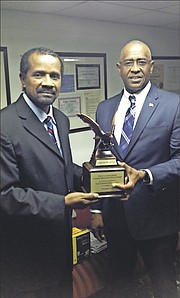 SENATOR Greg Burrows, the founder of the Freedom Farm Baseball League, receives his R E Cooper Sr National Meritorious Award this week after mssing the awards ceremony last week due to a prior commitment.
The National Meritorious Award was a success last Friday night at the Atlantis Ballroom, when 22 outstanding people were honoured and recognised for their unselfish achievement and helping to elevate their fellow man.
Mr Burrows, who has facilitated hundreds of Bahamian young people achieve college scholarships through Freedom Farm, some of whom have gone on to play professional baseball, was presented his award on his return by Dr R E Cooper Jr, chairman of the awards committee.