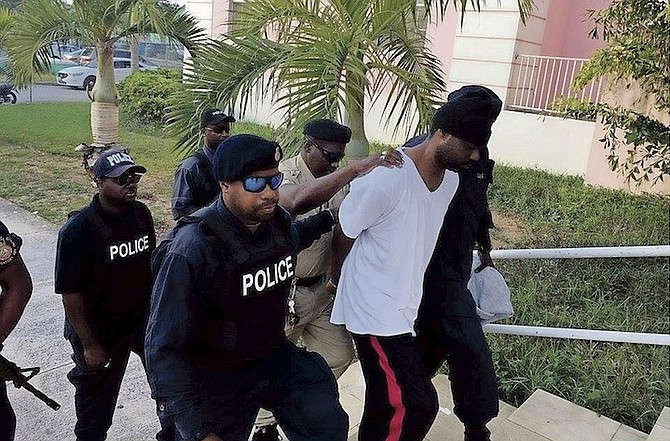 By LAMECH JOHNSON
Tribune Staff Reporter
ljohnson@tribunemedia.net
A PSYCHIATRIC evaluation has been ordered for a man who was arraigned in Magistrate's Court yesterday in connection with the fatal stabbing of his mother in their family home.
Tamaal Adderley, 35, of Turnquest Avenue was brought into the Nassau and South Streets complex under heavy police guard to appear before Chief Magistrate Joyann Ferguson-Pratt on a charge of murder concerning the death of 61-year-old veteran educator Lauramae Adderley.
The accused appeared dejected and withdrawn when addressed by the arraigning magistrate.
"Mr Adderley could you give me your date of birth please?" the chief magistrate asked.
The accused did not respond and his head remained down.
"Are you able to assist me?" the chief magistrate asked, trying to get a response from the suspect.
"I'm trying to remember," he muttered.
Chief Magistrate Ferguson-Pratt proceeded to read the charge and particulars brought against him.
Adderley's murder charge falls under Section 291 (1)(B) of the Penal Code, meaning the accused will not face the discretionary death penalty if there is a conviction at the end of the Supreme Court trial.
It is alleged that he killed Lauramae Adderley on Monday, December 12.
According to initial reports from police, the victim was found dead in her home with apparent stab wounds. After the discovery, police said a male relative was helping in their investigation.
"Is it the intention of the Crown to proceed by way of voluntary bill of indictment?" the chief magistrate asked.
Police prosecutor Sgt Timothy Saunders said this was the case.
Tonique Lewis, lawyer for Tamaal Adderley, made a request of the court for her client not to be remanded at the Department of Correctional Services.
"Given my instructions from the family, particularly the brother concerning his time in police custody, I'm requesting he not be ordered to DOCS but instead to Sandilands so he can be evaluated. I'm humbly making the request based on my instructions," the lawyer stressed.
Sgt Saunders said he had no objection to the request but noted that the Sandilands Rehabilitation Centre did not have the facilities for an individual charged with that kind of offence.
"I believe I'll have to agree with the Crown," the chief magistrate said.
However, she added that she would note on his remand warrant that "he is to have a psychiatric evaluation."
During the arraignment, Ms Lewis handed her client a tissue to wipe his tears.
A status hearing was fixed for January 4, 2017 with respect to the evaluation while the case is expected to be transferred to the Supreme Court on January 17, 2017.