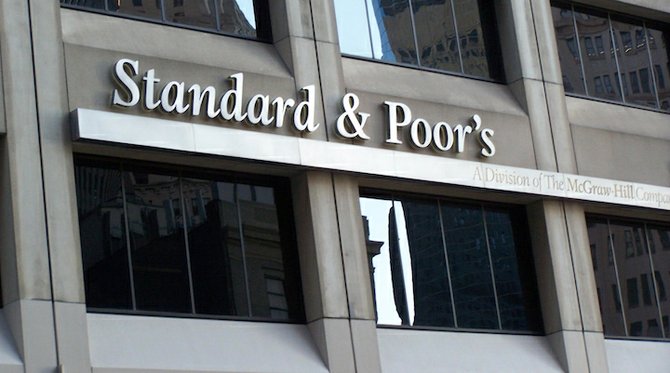 By NEIL HARTNELL
Tribune Business Editor
nhartnell@tribunemedia.net
LEADING global credit rating agency Standard & Poor's (S&P) yesterday handed the Bahamas an unwanted Christmas present - a downgrade to "junk" status, reflecting the country's worsening economic and fiscal position.
S&P's action, based on The Bahamas' weaker economic growth and slower fiscal consolidation pace, means that the country has lost its all-important 'investment grade' status, which is potentially highly damaging for the nation and its economy as it signals to the international capital markets that its creditworthiness is slipping into dangerous territory.
The Government said last night that it was "disappointed" with the development, claiming "it is most unfortunate that S&P did not seem to fully consider the impact of the many growth generating initiatives underway".

The latest downgrade will immediately send a negative message to the investors in both Bahamian government debt and the economy, potentially impacting every Bahamian. The Government will likely have to pay more for current and future debt issues, raising its debt servicing (interest) costs and sucking money away from essential public and security services.
S&P justified the downgrade to BB+ (speculative or "junk" grade) from BBB- (investment grade) on the basis that it is now projecting the Bahamian economy will only grow by 0.3 per cent this year, down from its 1.2 per cent estimate in April.
The rating agency added that lower Gross Domestic Product (GDP)/economic growth would also negatively impact the Government's tax revenues and fiscal consolidation plans, which were already progressing more slowly than expected.
Echoing the International Monetary Fund's (IMF) recent warnings, S&P said government spending was still outpacing revenues despite the introduction of Value-Added Tax (VAT), with Hurricane Matthew restoration costs set to inflict "further pressure" on expenditure in 2017.
"At the same time, we believe that this lower growth trend will challenge the government's ability to meet its fiscal projections, likely resulting in rising debt," S&P said. "The erosion of the Bahamas' creditworthiness reflects these growing vulnerabilities within a context of a weak external position with growing levels of external debt, double-digit unemployment, high non-performing loans in the banking system, and high household indebtedness."
S&P added that Baha Mar was unable to come to the Bahamas' rescue in time to avoid a downgrade, effectively dismissing the $3.5 billion development's economic impact for much of 2017. "The country's largest tourism project, Baha Mar, is set to open in phases beginning in 2017. We believe that it will take time before the resort is able to operate at full capacity," the rating agency added.
However, in a statement last night, the Government slammed S&P's latest downgrade, saying it did not "fully consider" initiatives that were already underway to generate greater economic growth.
Its statement, though, did not identify specific initiatives by name other than Baha Mar, indicating that all the Government's growth and job creation hopes are pinned on the Chinese government and the project's new owner, Chow Tai Fook Enterprises (CTFE).
"Definitive public statements have now been issued by the new owners of Baha Mar, Chow Tai Fook Enterprises' (CTFE) Bahamian subsidiary, and almost 1,000 workers are currently on-site engaged in completion activities," the statement said. "With the first phase of Baha Mar's opening, slated for April 2017, CTFE estimates that, starting next month, 1,500 jobs will be generated for Bahamians, and grow to 3,300 through August 2017. Building on the more than $100 million ex gratia payments made to former employees and creditors, this restart comes with additional capital investments approaching $1 billion that will have significant direct and indirect impacts on the economy."
Despite admitting unforseen events such as the two recent hurricanes, Joaquin and Matthew, had placed additional strain on the Government's resources and added to the debt stock, the Government said that the country's short-to medium term prospects "are positive, and the immediate focus of policy makers is on ensuring that the many growth promoting initiatives underway take root and yield the expected dividends". It said it is confident that the Bahamas will be able to secure an improved rating outcome.
S&P at least decided to place a 'stable' outlook on the Bahamas and its credit rating, with the agency implying that - barring major negative shocks to the economy - no further downgrades are likely over the next two years.
Moody's, the other leading rating agency, is keeping the Bahamas at 'investment grade', taking a more relaxed view on Baha Mar and the Christie administration's fiscal consolidation efforts.
Private sector and political reaction was swift, all interpreting it as a strong signal that the Bahamas rapidly needs to alter its fiscal and economic course.
Edison Sumner, the Bahamas Chamber of Commerce and Employers Confederation's (BCCEC) chief executive, said: "It has to be seen as a real wake up call. It's not good news for anybody."
Kenwood Kerr, chief executive of Providence Advisors, said: "It just raises the uncertainty, and with oil prices rising, it's going to have a knock-on effect for us. It was not unexpected, but is not welcome."
Loretta Butler-Turner, the Opposition's leader in the House of Assembly, responded: "Oh my God, this is not a good Christmas. We've obviously gone over that precipice that I've been talking about for some time."