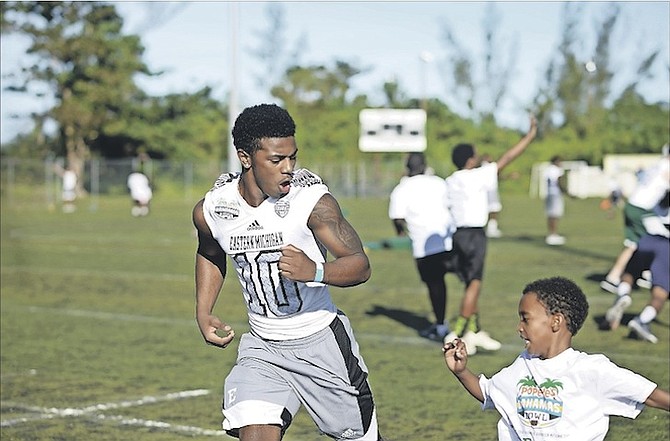 By RENALDO DORSETT
Sports Reporter
rdorsett@tribunemedia.net
Bowl week events continued for the third edition of Popeyes Bahamas Bowl as the organisers attempted to extend their community outreach and interaction between visiting players and locals.
Student athletes and spirit squads from both the Old Dominion Monarchs and Eastern Michigan Eagles participated in community-building exercises with aspiring youth football players yesterday.
First up, the contingent visited the Ranfurly Homes for Children, and in the second event on yesterday's schedule, they hosted a Youth Football Leadership Clinic, in conjunction with USA Football, at the Roscow Davies Soccer Field.
At the youth clinic, dozens of students from kindergarten to high school players took part in various drills by the USA Football staff players.
Chris Maddox, USA Football representative and clinic coordinator, said similar clinics could be integral in bringing some of the country's many talented athletes to American football.
"It was fun watching the kids run around and have a great time, they are getting to interact with and even tackle these guys and they had a blast doing it," he said.
"There are a lot of good athletes here that play other sports, they're just now learning to play American football. It can crossover and as the popularity of the sport develops your better athletes will gravitate towards it. These kids watch the Super Bowl but they don't get to go out and play with their buddies afterward. This provides a connection and all helps the sport to grow."
The camp facilitated dozens of aspiring football players between the ages of seven and 13. Players from both schools and USA Football staff demonstrated basic drills throughout the afternoon covering passing, catching, blocking and tackling. It proved to be a rewarding experience, not just for the participants but for the student athletes themselves. "It was a great day. We got to interact with the kids, teaching them what we know and about our sport and our lives," Monarchs freshman wide receiver Noah Ellison said. "I was just glad I got to help out the community and help out the kids. It was a special day and the entire week for me and my teammates, it was special experience."
Eagles freshman defensive back Jordan Porter said his hope was that the message of the events was able to resonate with the participants.
"It was so much fun being out here with the team we are competing against, but being out here for the kids, it was so much fun, we loved it," he said. "They were actually doing a really great job. Some of them knew football, some of them did not know what the sport is but it was fun just to be able to introduce it to the kids and have a great time, he said, "To be able to impact their lives in this short time they were here was a great feeling and I hope it's something that sticks with them."
Porter signed footballs and t shirts with his signature and the message "Stay in school! Love football!"
The active Bowl week schedule began with team arrivals and a welcome reception for their respective contingents on Monday. Tuesday, the players and staffs had an opportunity to see the newly upgraded Thomas A Robinson Stadium and its Bermuda Grass field for the first time and were treated to a Beach Bash at the Atlantis Resort. Today will feature media day and the final walkthroughs before Friday's kickoff.
The matchup between the Monarchs and Eagles is scheduled for 1pm December 23 at the Thomas A Robinson Stadium, broadcasted live on ESPN and ESPN Radio.