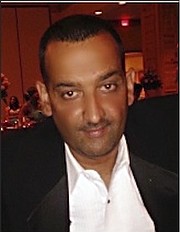 By Inigo 'Naughty' Zenicazelaya
Glad to know so many of you enjoyed last week's column; in all honesty this week, like most Bahamians, I'm still fighting the Christmas hangover.
Whatever, we shall have some fun, while keeping it short and sweet.
I need time to practice my New Year's drinking 'stance' before New Year's arrives - and we all know practice makes perfect.
So here are my Top 10 predictions for 2017:
1 The PM will park his outriders
Prime Minister Perry Christie will be on time for events, driving himself in a hybrid Honda Fit, retiring his RBPF outriders, allowing them to return to fighting crime ... and the PM to call a snap election in February, while the nation is distracted by his new wheels.
2 'Branetta' will slap and say goodbye
'Politics breeds strange bedfellows' so the saying goes. 'Branetta' is living proof everything is rosy now; come mid-January as the silly season heats up, one will kick the other out of the political bed they are sharing presently (Bran is the early favourite to line up a swift one).
Maybe that's what LBT and 'Cool' PGC were so chatty about in those pictures from the Boxing Day Junkanoo Parade?
3 Rodney tweets

Senator and JP Rodney Moncur's Twitter account will go viral globally, eventually gaining more followers than US President elect Donald Trump. Incurring the wrath of women's rights groups worldwide, begging Moncur 'not to save the woman dem'.
4 Let there be light
BPL will finally get it right! No more load shedding and blackouts late at night, along with accurate monthly bills, not wild 'guesstimations'.
And no more press conferences from BPL CEO Pamela Hill, safely tucked away in the comforts of the Atlantis (no wonder Paradise Island never went off) while the rest of the Bahamas rode out Hurricane Matthew in the heat and darkness ('The Potcake' never do us bad like dat').
5 The PM will get S&P to upgrade us
Our PM will negotiate successfully with S&P to have our status upgraded, explaining "Y'all jus' hold tight. Fook gern bus' us with da bub in short order, so we could work da Baha Mar vibe, and erryt'ing ga be jus' cool."

6 The marketing and promotional teams from BTC and Aliv will imitate the WWE

The telecoms war is on in the 242, with guerrilla marketing the order of the day. I must admit the earlier jousts between the two entities, captured on video, posted on FaceBook were quite comical and entertaining.
As competition for your communications dollar intensifies, I see a WWE-style battle royal erupting between the respective marketing teams, at some neighbourhood park.
Cell phones, SIM cards, phone cards and various promotional BTC and Aliv paraphernalia will be hurled with reckless abandon, and a winner will only be determined when one of the two CEOs from the respective companies executes a 'moon sault' off the bouncy castle on the other.
I just hope I'm there on live remote, so I can tap into my inner Gordon Solie and deliver the play-by-play.
7 The Miami Dolphins will play in the AFC Championship game
The 'Fins won't win it, but they will have had a good run getting there, re-establishing themselves as a force in the AFC for years to come and setting 'loopy' 'Dolfans' loose all over social media, posting their corny memes in unison.
Sadly, despite all their success, they will still be inferior to the eventual Super Bowl champions ... Dallas Cowboys.
8 Stores will run out of Depends
Stores will be out of Depends adult diapers for the first six months of the new year, after the Valley finishes fifth - again - in the New Year's Day Junkanoo parade.
9 The Prison Bus will drive with sense
The Prison Bus will transport remanded prisoners to and from court in a safe and orderly manner, via an efficient, secure land route. Obeying the rules of the road in the process.
Yes, no more 'shell shocked' motorists on the road and prisoners bouncing out of the bus.
10 A famous person will die
I'm not trying to be insensitive, especially in light of recent events. However, statistics show that a famous person will die in 2017.

I wish everyone a happy and prosperous New Year.
• Inigo 'Naughty' Zenicazelaya is the resident stand-up comic at Jokers Wild Comedy Club at the Atlantis, Paradise Island, resort and presents 'Mischief and Mayhem in da AM' from 6am to 10am, Monday to Friday, and 'The Press Box' sports talk show on Sunday from 10am to 1pm on KISS FM 96.1. He also writes a sports column in The Tribune on Tuesday. Comments and questions to naughty@tribunemedia.net