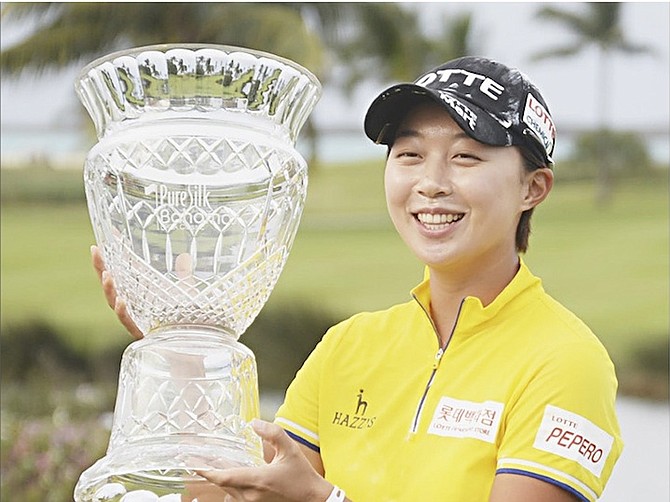 MINISTRY of Tourism officials are already planning for an exciting Pure Silk Bahamas LPGA 2017 after history was made Sunday at the Ocean Club Golf Course.
Twenty-year-old Hyo-Joo Kim of South Korea beat over 100 of the best female golfers in the world after she held on to a two-stroke lead over previous champion golfers Stacy Lewis and Sei Young Kim.
"I was worried because it is more windy in The Bahamas than I expected," Kim admitted through a translator at the closing ceremony. "But it is a very beautiful place and I hope that I continue to do well for the rest of the year."
Kim, who seems to be on a winning streak after two previous competitions, took home $210,000.
Through the event, the Islands of The Bahamas made sports history as South Korea's Ha Na Jang scored the first par four hole-in-one albatross in LPGA's history.  
The jaw-dropping play was done on the 8th hole at the Ocean Club, during the third rounds in the golf tournament.  
Ha Na used a three-wood, the hole was listed at 232 yards and was playing at 218 yards.
While the Golf Channel carried 10 hours of live footage of The Bahamas, the historical play was picked up by ESPN which immediately tagged the shot @ LPGA never do and then tweeted the shot stating "it was unbelievable." 
Within minutes, the story received more than 25 million views and has since then been picked by every major television network and news organisation around the world.
Joy Jibrilu, director general of the Bahamas Ministry of Tourism, said the event exceeded expectations.
"It was just another phenomenal event staged in The Bahamas this time at the Ocean Club on Paradise Island. History was once again made. The hole-in-one went in viral all around the world. It is a great event. It was well-organised, the weather held up, the course looked fantastic and it was just the icing on the cake," she said.
The Bahamas Ministry of Tourism has signed on to host the Pure Silk Bahamas LPGA Classic for another three years and Jibrilu said the tournament will only get better over time.
"It will grow from strength to strength," she said.
"Every year it has grown, including the viewership on the Golf Channel. It can only get better."      
Emily Norell, tournament director, said she expects even more publicity from LPGA.
"This is by far the best year that we've had in terms of volunteers and the efforts we have had on staff so we could not be more pleased with how this ended," she said. "It can only get better and better. Our goal was to get crowds out there and I think we definitely did that. Thursday, Saturday and Sunday – we definitely filled the stands this year.
"There has been more people than has ever been and I think this tournament is really going to gain traction as each year goes by. You can't find a better place – Paradise Island, the Ocean Club – it is a beautiful place and it shows that The Bahamas can host the best."