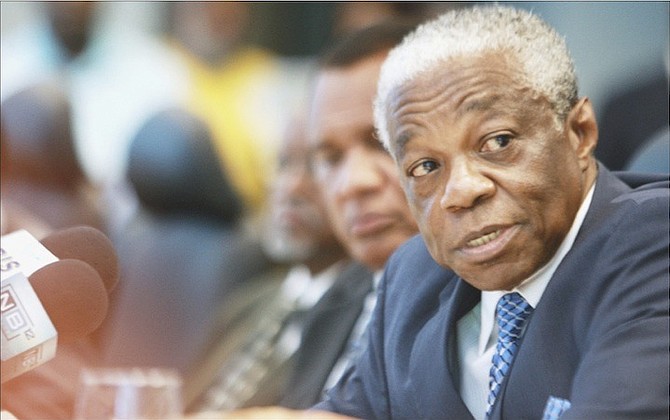 By KHRISNA VIRGIL
Tribune Staff Reporter
kvirgil@tribunemedia.net
ACTING Royal Bahamas Defence Force Commander Captain Tellis Bethel yesterday moved to allay concerns sparked by his organisation's recent acquisition of military equipment from China, explaining that there was no need for public concern.
National Security Minister Dr Bernard Nottage further moved to clarify the donation saying "we are not getting any money" from the Chinese, but suggested that it was the handing over of 105 musical instruments for the RBDF's Rangers band and other gear worth $1.5m.
"We gave them a list of things that we might like and the most important things on the list was 105 instruments for the Rangers band. But, see, everyone forgot about that now and focused on the grenades. These are not the hand grenades you have in movies you know," he said.
Last week, during a brief ceremony at the Ministry of National Security, The government and the Chinese signed documentation for the turning over of the items.
These included armoured vehicles, anti-riot grenade launchers and tear gas grenades, and low-light level night vision goggles among other things.
Capt Bethel told reporters that some of the equipment like the anti-riot gear will go to aid the police, adding that it was better to be safe than to be sorry. He said the grenades and the grenade launcher was in addition to what the RBDF had requested, suggesting that the equipment had not been part of what was listed.
"With respect to the armoured personal carriers, the Defence Force doesn't have any vehicles in its inventory that can adequately protect its personnel in the event of any high-risk situation. So looking down to the future, if there is a need to access any high-risk situation the Defence Force will have that kind of protection for its troops.
"(But there is) no need whatsoever for public concern. If anything it is to protect the public from what could happen in the future. It is certainly in the interest of public protection because we are servants of the people." 
While accepting the donation, last week, Dr Nottage said: "This is a gift of US$1.2 million for the Defence Force and the (RBDF) was given the opportunity to indicate what they would wish to assist in its development.
"So we have got a short-list here of 33 different types of items which include two armoured vehicles for the Defence Force, two 38 automatic anti-riot grenade launchers, 10,038 smoke tear gas grenades, anti-riot gear sets, (and) portable low-light level night vision goggles - 60 of those."
He said the gifts were the result of discussions last year in which the RBDF was given the opportunity to list its needs.