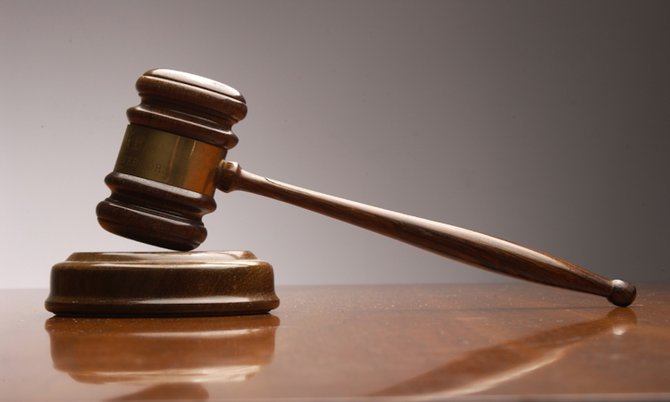 By DENISE MAYCOCK
Tribune Freeport Reporter
dmaycock@tribunemedia.net
A BIMINI woman who alleges that she was gang raped two years ago testified that she remembered waking up after the alleged attack without her tights or underwear.
The complainant also said that on the night in question she had a few drinks, but remembered seeing one of seven accused men on top of her before passing out.
The woman appeared "distressed and tearful" after the alleged attack and had vaginal abrasions, a doctor who performed a rape kit on the complainant testified yesterday.
Brenton Brooks, aka "Fat Boy"; Terrico Smith aka, "Rasta"; Charmer Cox, aka "Yellow"; Ridge Farquharson, aka "Ridge"; Fabian Major, aka "Major"; Desmond Greenslade, aka "DJ" and "Red Boy"; and Natico Symonette, aka "Junior" are all charged with allegedly sexually assaulting a 22-year-old woman in Bimini on February 2, 2014, in an employee dorm room.
The trial, which opened last week, is before Justice Estelle Gray-Evans. Nine men are sitting as jurors in the case.
Lead Prosecutor Erica Kemp of the Office of the Attorney General, assisted by two prosecutors, is appearing on behalf of the Crown. Attorneys Simone Brown, Brian Hanna, Carlson Shurland, Ashley Evans, and Wendell Smith are representing the accused men.

It is alleged that the female complainant, who lives in North Bimini, was out nightclubbing with a number of men who took her back to the dorm where they lived and raped her.

The men, who resided in New Providence, went to the island to work at Resorts World Bimini.
The victim claimed to have had quite a number of drinks and was unaware that she was at the dorm on the night in question. She said she remembered seeing one of the accused men on top of her, but could not remember anyone else as she was in and out of consciousness.
During re-examination on Monday, the victim told the court that when she woke up she did not have on her tights and underwear.
She said when she saw "Junior" (Symonette) outside the dorm she asked him whether anybody had sex with her. She said she told Symonette she saw "Rasta" on top of her, but he allegedly laughed and said he did not know what she was talking about.
Dr Sherrell Ferguson, a physician stationed in Alice Town at the time, told the court that the victim came to the community clinic with a police officer around 12.30pm on February 2, 2014.
A medical report prepared by Dr Ferguson regarding her examination of the victim on the date in question was entered into evidence.
She told the court that the victim informed her that she was sexually assaulted around 3am on the date in question.
"She was distressed and very tearful and I tried to console her," the doctor recalled.
During her examination, Dr Ferguson observed abrasions and contusions on the walls of the victim's vagina. She also conducted a rape kit, taking mouth and vaginal swabs, collecting pubic hairs, blood samples, and the victim's clothing, which she turned over to a police officer.
The doctor also took note of the victim's appearance.
"Her skirt was twisted, and her hair was disheveled; she was agitated, tearful, and in a state of shock and ranting about what happened the night before," she added.
When asked whether she could tell how old the contusions and abrasions were, Dr Ferguson said that there was red blood present which indicated that it was a more "recent trauma."
Dr Ferguson took blood samples from the seven defendants the next day.

During cross-examination, Mr Shurland asked the doctor if recent meant a week before or a couple days before in her estimation, but Dr Ferguson said she could not say because the healing process differs according to an individual's own physiology.
Mr Shurland then noted that according to the victim's earlier evidence, consensual sex had taken place on January 30, 2014 around 12.30am.
Mr Shurland asked the witness: "Can you count the number of men on the front bench?"
"Yes, there are seven," the doctor replied.
"We have seven here and in the report she told you that there were four black men who were her acquaintances?"
"Yes," the doctor said.
"Did she describe them to you?"
"No, sir," Dr Ferguson said.
Dr Ferguson said the victim told her that she was in a nightclub with her assailants, who offered her a ride and left with them. She said the victim told her that she had six beers and was in and out of consciousness.
"Did she also tell you she had Heinekens, Ciroc - that's vodka - Hennessey, and the drink Climax and that she was smoking some dope," Mr Shurland asked.

"No," the doctor replied.
"That is a serious cocktail wouldn't you agree?" Mr Shurland asked.
After the jury was dismissed for lunch, Mr Shurland presented several arguments to the judge.
Brooks is represented by Ms Brown; Symonette and Greenslade are represented by Mr Hanna; Major is represented by Mr Shurland; Smith is represented by Ashley Evans; and Farquharson and Cox are represented by Wendell Smith.

The trial resumes on Tuesday.