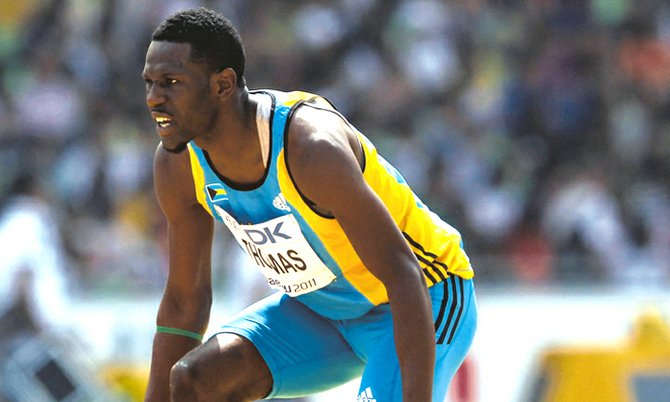 By BRENT STUBBS
Senior Sports Reporter
bstubbs@tribunemedia.net
AS the International High Jump series kicked off between some of the top men in the world, Donald Thomas turned in a personal best in posting a third place finish in Banska Bystrica, Slovakia, last Thursday.
Three days later, in Trinec, Czech Republic, as the series moved to its second leg, Jamal Wison jumped his season's best with a seventh place finish.
At the Banskobystricka latka Meeting in Banska, Thomas soared 2.33 metres or 7ft, 7 3/4in for third, trailing Italy's Gianmarco Tamberi and Marco Fassinotti, who both tied the world leading and national record height of 2.35m (7ft 8 1/2in). Tamberi, however, was awarded the victory on fewer knockdowns on the countback. Trevor Barry and Wilson were 13th and 14th respectively with 2.15m (7ft 1/2in).
For Thomas, the leader of the Bahamian trio, the competition was more than he expected.
"I came to see where I was at in terms of training and competition fitness," he said. "My training has been going well so I was optimistic, but I was looking for a good result. My coach wanted anything over 2.31m. I wanted a world leading mark, but I fell short by two centimetres. Overall, we are satisfied with 2.33m. It's a PB (personal best)."
Thomas said he used the meet to prepare him for the IAAF World Championships in Portland, Oregon next month.
"The competition was intense and a lot of jumpers jumped really well," he said. "The atmosphere was nice and the crowd support was super. I'm happy I was able to compete at a high level and walk away injury free."
Thomas, however, said he was delighted to have been able to compete in the meet with two other Bahamians.
"It felt good to have two other Bahamians on the circuit with me in same event," he said. "It's the first time I experienced this. It shows that high jump in Bahamas is at an all-time high."
In Trinec, Mutaz Essa Barshim posted a new world leading mark and an Asian record of 2.40m (7ft 10 1/2in) for the win, while Wilson improved on his previous performance with 2.25m (7ft 4 1/2in) for seventh place.
Missing from the field was Ryan Ingraham, who was unable to make the trip because of an injury. Ingraham returned to action over the weekend at the Star Trackers' 13th annual Star Performers Track Classic at the Thomas A Robinson Track and Field Stadium, where he won the high jump with 2.15m (7ft 1/2in).
"I got a chance to see how my knee is feeling. Everything is coming along. I just have to jump more in practice now," said Ingraham of his performance. "Because of the injury, I didn't get to travel with the guys, but I'm not going to sweat about it. By Nationals when everybody comes home, I'm going to put it down. I will be ready because my goal is to go to the Olympics."
All four jumpers are eligible for the high jump for the Bahamas, but they will have to go over the qualifying standard of 2.29m (7ft 6in) when the Bahamas Association of Athletic Associations' National Open Track and Field Championships is held over the weekend of June 24-25 at the Thomas A Robinson Track and Field Stadium.
The Olympic Games is scheduled for August 12-21 in Rio de Janeiro, Brazil.
"This year, I'm aiming for the podium at both the indoor and Olympics," Thomas projected. "I'm training for the win so hopefully things keep progressing."
He shouted out to his hometown in Grand Bahama: "Eight Mile Rock, all we got."